Wow, Perú!
I'm blown away by the welcome we've found in this country; and especially that here in the town of Huaraz, in the neighbourhood just east of Avenida Confraternidad Internacional.
We've been staying in this barrio for just four days – and yet I already feel like it's my own, and I would defend it and its residents to anyone.
A classic proof that you should trust your instincts, the streets leading up to the Casa del Montañista appear exactly the sort you're told not to go through in South America. Poorly lit, with several run-down or partially-demolished buildings, and rough mortared streets; we viewed them with trepidation after the 20 minute walk from the bus station, arriving on Thursday evening. However, from the moment we started up the hill, laden with backpacks and guitar, we also felt an incredible sense of welcome and goodwill, with a smile and a 'buenos noches' from everyone we passed.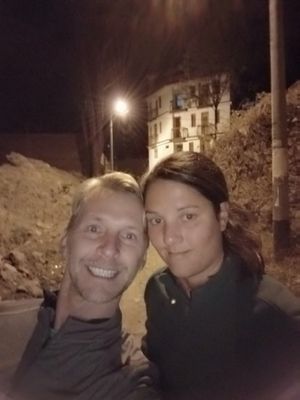 With Ash, arriving at our lodgings in Huaraz
Now that we have explored the neighbourhood by day this sense has only increased. The local shops are friendly and fun, with parents encouraging their kids to master their fear and serve a foreigner, whilst sharing a grin with me; trusting us to return glass bottles the next day, exchanging names and asking about where we're from. We've befriended several street dogs, and these are healthy and friendly – Ash feeds them whenever possible!
Today has been especially pleasant – the streets here come to life on a Sunday. I had lunch at a pop-up street café; and while I ate chatted with owner Victor and staff member Flower. I was as keen to learn some Quechua phrases as they were eager to teach me, and I look forward to trying some of these out – simple exchanges such as 'hello, how are you'; 'what's your name'; 'salt'; 'chilli'; 'thank you'; and 'delicious' – all the important stuff!
The sun shone and the temperature in the shade of the awning was pleasant (high teens, as warm as it gets here in the mountains; night times are much cooler – approaching freezing). Victor and Flower were both interested to learn a bit about Scotland and life there, and we compared thoughts on places, life, mountains, language and travel.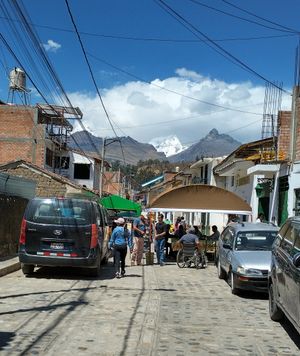 Jirón Prolongación José Olaya comes alive with street restaurants on a Sunday
Then just now, on my way back from making some travel arrangements in town, Yothy, Eliza and Isaac called me over for a glass of beer – '...algo contra el calor' - something against the heat. Again, they are interested in Scotland, although they say they have only seen it in photographs and movies. We talk about mountains and how even here in town, down in the valley, we're at over double the altitude of Ben Nevis (Huaraz sits at 3,100 metres; the Cordillera towers above it at up to 6,768m!) They know that Scotland is the country of William Wallace - everyone seems to have seen 'Braveheart'!
Yothy asks me how I'm enjoying Huaraz – I say I love it, especially this barrio. He shrugs, and says it's not so pretty – nodding towards the rubbled street, the tumbling buildings, damaged and under repair. But it's the people that make a barrio – the sense of community and welcome here is unmistakeable.
Behind the houses, the incredible ridge of the Cordillera Blanca rises, white, snow-covered. Huaraz suffers regular earthquakes, and faces threats from flooding during heavy rain periods, primarily during El Niño years; this often damages streets and buildings. The danger of larger floods caused by melting glaciers in the mountains above is an ongoing concern in this valley.
---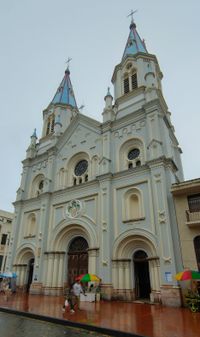 We had crossed the border from Ecuador by night after spending two days in the UNESCO heritage city of Cuenca. The city features stunning cathedrals and architecture, and a level of prosperity we perhaps haven't seen elsewhere in Ecuador.
The night bus onwards was extremely comfortable, putting UK buses to shame – the worst journey I've had this year is still the 14 hours aboard the National Express from Glasgow to London last month; that experience is one that, I hope, won't be beaten!
We reclined deeply in the comfortable seats and slept much of the way to the border; and again after we went through the process of getting off the bus, getting stamped out of Ecuador and into Perú between, all of which happened sometime between 2 and 3am.
We arrived in Máncora at 6, finding a very different flavour there from the town we'd left. The dusty streets were barely awake in the grey morning light, and tuk-tuks queued up to offer us lifts. The station for our onward bus turned out to be only 100 metres along the road.
Another two-hour bus journey and we were in Talara, a town that looks as though it has been built in a huge, hewn-out square in the sand. At the bottom of the town is a large oil refinery and a port where tankers berth; the sight of this took me back to my days working on tankers, running to dusty ports on the west of Mexico.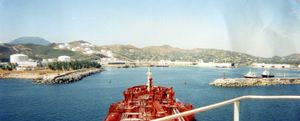 A picture I took from the bridge of the Maersk Humber, running into Salina Cruz, México, long ago!
More tankers and oil installations dotted the sea between Talara's harbour entrance and the horizon.
Our host, Rafael, met us here; we would be volunteering at his place for the next week.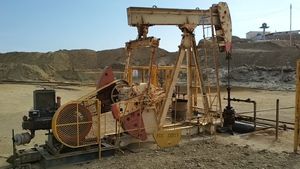 The drive out to Lobitos, and then to Baterías Point, was dusty and bumpy, the roads destroyed in places by the river that runs only in El Niño years, Rafael tells us. All around us on the drive from town is desert – the Sechura Desert, with very sparse, hardy bushes and huge dunes of mortar-sand. The landscape looks increasingly blasted; dotted through the desert around Lobitos stand dozens of 'horse-head' oil pumpjacks, nodding away, pumping crude through the steel and plastic pipes that lie stretched across the ground.
Rafael's place is named 'El Casa del Naufragio' – the house of the Castaway, the nickname he was given when he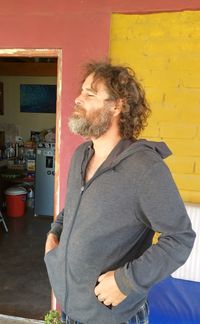 arrived in town as a surfer ten years ago. He looks the part; beard greying, sun-hardened eyes, and a dog he has named 'Wilson'. He lives here with his partner Caro, who runs art projects with an environmental angle for children and adults in Lobitos.
The casa is entirely off-grid, with solar panels charging a battery bank, which gives sufficient power to keep a fridge going, run lights and charge devices through the night. Water is loaded by truck, and drinking water must be rationed carefully. An off-grid house is very similar to a ship really!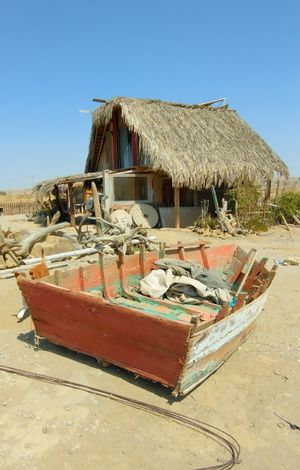 Our stay was arranged through the 'Workaway' platform - a global volunteering/hosting platform that enables cultural exchange, often with a focus on environmental or art/music projects. Our main initial task was to lay a paving area; Ash and I got into it, enjoying preparing the ground, raking out the surface, levelling and dropping rock slabs into place, filling the gaps with aggregate, watching the patio develop. We spent the next few days working on this project, or tidying and sorting building materials around the house and surrounds.
The outlook from the Casa de Naufragio is incredible: waves curl around Baterías Point, open Pacific Ocean horizon is broken only by the oil installations, kite surfers and fishing boats that still head out under sail; and frequently frigate birds, pelicans and cormorants rise above the ridge, riding the updraughts and eyeing up fish. The wind rarely eases, blowing 20 knots or more and driving desert dust into every corner; the temperature is cold at night, rising from single figures to low 20s by day, so that only in the sun is it really warm.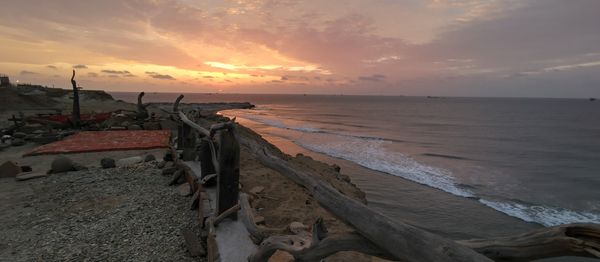 We worked by day, with time to swim in the sea (chilly!), walk the dog, or cook.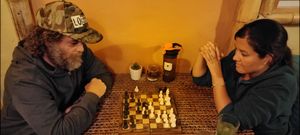 In the evenings we were able to go to the Naufrago Bar in Lobitos town; this place has a real community feel, built around surfing and tourism, and we got to know several of the regular crowd.
On our day off, and the next morning, we went surfing - with regular, curling waves, Lobitos Beach would make a decent surfer out of me in a short time. But our week was up, and it was time to move on.
From Talara, we caught a 6-hour bus to Chiclayo; a town where many of the streets around the guest house we stayed in have been destroyed by floods and are uneven, rubble-piled, with deep trenches cut in places where presumbly drainage systems are to be installed. But the people make up for any lack of tidiness with their warmth and humour. At a ceviche stall the following morning I feel like I have a walk-in part in a piece of street theatre as the two ladies who run the stall never stop joking and accosting passers-by. To an old man the lady shouts, 'hola viejo' (hi old man), with an aside to me: '...es enamorado de [he's in love with] mi...'; she immediately turns and cries to a passing lady 'Hola muñeca bonita!' (Pretty doll) - come eat some ceviche!
It is very, very good; raw fish marinaded in lime juice and chilli, super fresh.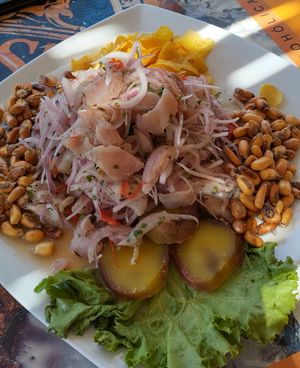 Valería, the owner,  tells me the fish market is close and good, fresh fish is easy to come by.                            
                                                                 (Real Peruvian Ceviche, pictured right)
The ladies tell me it's normal to eat some rice with chicken after ceviche , but I need no more! We have found meals to be very large in Perú - almuerzo, or lunch, is often served as a dish of the day; there will be a soup followed by a large plate with meat, rice and vegetables. I make my excuses, pay the bill and move on before any more food is placed in front of me!
We caught another bus, onwards to Trujillo - a town much smarter on the surface than Chiclayo, but perhaps lacking the mirth and warmth we found there; then the following day a further bus took us inland and up the mountains, ascending to 4,200 metres before descending once more into the valley to Huaraz.
These are proper, intimidating mountains, vertical in places and appearing impossibly high. A minibus takes us past Huascaran Sur, Perú's highest - and South America's third highest - mountain, then up some switchbacking, unsealed roads to Laguna Parón, where a breathless climb (10 days at sea level has robbed us of any altitude acclimatisation we may have gained!) takes us to a stunning viewpoint - looking out over an intense blue lake towards the striking Pirámide peak, and the even higher Artesonraju.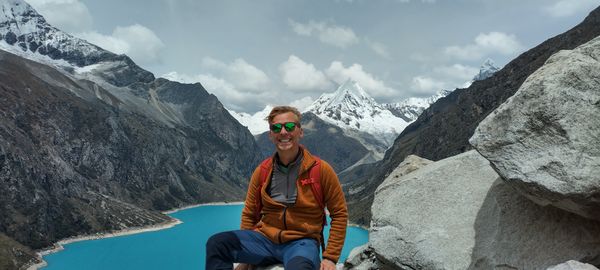 Atop the mirador at Laguna Parón
---
Back in town, we make plans for travelling on - Perú is vast, and there will be at least three night-buses involved in getting to the south part of the country. We have seen some of the desert-dry coast and the mountain areas, but it's incredible to think that three-quarters of the country, on the other side of the Andes, is rainforest - and is some of the most untouched areas of the Amazon region and river system. We are excited to see more of the jungle and forested parts of the continent when we visit Bolivia next month.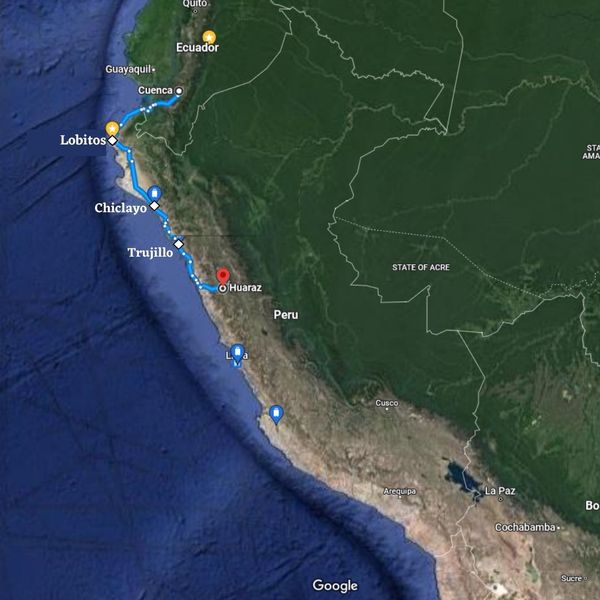 Our route so far through Perú
Till then I'll leave you and we'll walk down our rubbly street once more, bid good night to everyone we pass, and catch a bus onwards from the Transport Cooperativa in the centre of town.
Be safe,
Barry