The possibility of running a musical sailing trip seemed like a dim hope just a few months ago. But with a hopeful, music-starved group, and a careful regime of testing and preparation to avoid any virus problems onboard, we gathered in Oban on July 18th.
This was always going to be a Sessions and Sail trip with a difference. The usual ethos of mixing with communities, gathering ashore in community halls and pubs and meeting local tutors to learn tunes had to be replaced with a plan to sail the Lady of Avenel to some of the many gorgeous, isolated spots that are well within reach from Oban; to be inspired by those places and to play and learn tunes as a self-contained crew.
And it worked beautifully. Of course, a great crew, a hugely positive group, and the exceptional weather helped too..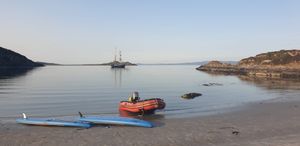 Lady of Avenel anchored off the beach, SW Jura
Sailing from Oban with Carol Anderson and Charlie Grey as our music tutors for the week, we first visited Eilean Dubh and the Garvellachs, where Charlie taught the crew the lovely melody 'Aignish'.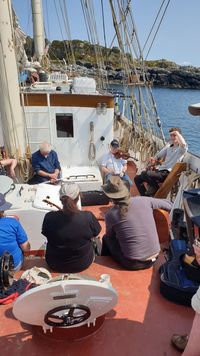 Charlie Grey teaches 'Aignish' on the foredeck
With very light winds, and a morning fog that burned off leaving hot sun by noon, we motored through the Gulf of Corryvreckan and down the East coast of Jura, finding a beach all to ourselves where Des cooked a superb barbecue, and the tunes went on until late.
We made our way up the Sound of Islay in the same way, with the tunes rarely stopping; and another beautiful beach at Kiloran Bay on the West of Colonsay.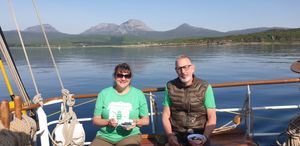 Alison and Wells enjoy breakfast in the sun whilst passing the Paps of Jura
At Iona we were joined for some tunes on deck by Pepita Emmerichs and Theo Barnard, which led to a great trad/bluegrass/swing session; again, the tunes went on into the very small hours.
For our final night, where we would normally have planned a ceilidh, we were instead welcomed into the village square at Easdale Island, where we were able to meet and play some outdoor tunes with local musicians and the community - thanks go out to the community there for making us feel so welcome, and to Des Ballantyne for making the arrangements.
Back in Oban, we had a day to turn around in preparation for the second week of Sessions and Sail... Charlie and Des left the crew, and Harry Bird and Becky Shaw joined as tutor and cook respectively.
This second week begun with a little less sun than the previous one, but soon we were sailing slowly into Loch Buie with tunes being played in the saloon and mackerel being pulled in aft! Again, an idyllic start to what turned out to be another superb week.
At Iona we had more illustrious visitors (see right...) and another good night of tunes.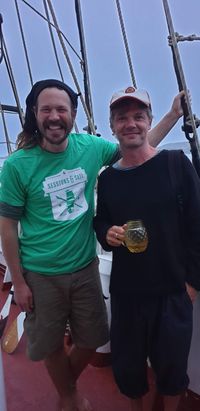 The following morning at Staffa, having made an early start to beat the tour boats to it, a real highlight was the sound of Becky's highland pipes, Carol's fiddle and John and Dave's harmonica, along with numerous voices, in Fingal's cave.
Mate Aodh and I stood off with the ship whilst the rest of the ship's compliment were ashore in the cave; the sound of the music brought goosebumps.
Thanks to Dave Godden for the use of his image below, shot from the cave: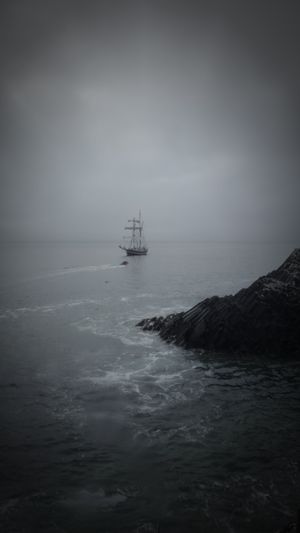 Lady of Avenel stands off Fingal's Cave (Photograph: David J Godden).                                        
  From there we were able to visit Coll, and Kilchoan Bay on the south side of the Ardnamurchan Peninsula before sailing across to Tobermory. In one of the best sails of the trip, we got the full crew on deck for some sail training; with a good NW breeze we wore ship around the Red Rocks and crossed the Sound of Mull close-hauled on the starboard tack, before sailing right into Tobermory Bay under full sail with the bagpipes on deck playing 'I See Mull'. I doubt if Tobermory missed our arrival!
We sailed down the Sound of Mull the following day to our final night party - again, a modified affair due to Covid.
This was a ceilidh with a difference. We had planned the event in conjunction with the community in Kerrera; and with our new friends aboard the sailing vessel 'Lady Flow', the Pianocean project. Caledonian MacBrayne are also due a big thanks for giving us their permission to use the pier in Kerrera.
We moored the Lady of Avenel mediterranean style, stern-on to the pier with the bow held by our anchor and a mooring; Marieke, Lilli and Sebastien moored Lady Flow to the same mooring, and took a line from their stern to the shore. Our amphitheatre was formed!
With Marieke performing on the piano that rises from the deck of Lady Flow, through a PA system on her deck, and the Lady of Avenel performing from our deckhouse roof through our own speakers, we were able to perform an open-air concert and ceilidh for the gathered crowd on the pier and the shore at Kerrera.
A duet between Marieke on her boat, and Carol on ours, as they performed "Fear a' Bhàta", was a real highlight; others included "Drifting", the song that Harry had guided our crew in writing as the trip went along; The Stornoway Waltz, which Carol had taught our whole crew; Becky's bagpipe opener, from our fore top platform; and the Strip the Willow and Gay Gordons, played and called by our session crew that included some of Oban's finest players.
'That pier is just dying for a strip the willow' was definitely a contender for quote of the night...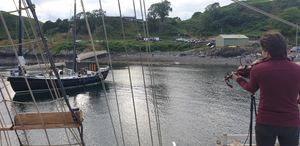 Carol Anderson performs 'Fear a' Bhata', duetting across the water with Marieke Huysmans aboard 'Lady Flow'on piano and vocals. The audience are off to the right on the shore and the pier.
We left the pier on Saturday morning and returned to Oban with the trip brought to a spectacular close.
After a year and a half where it became difficult to see the path ahead for either sailing or for music, this fortnight aboard has been a real affirmation of everything.
A huge thanks goes out to the crew, both sailing and musical - Aodh, Carol, Des, Charlie, Harry and Becky - for doing such a good job; and to the great folk who sailed with us, all of whom seem far more like friends than guests - Andrena, Amy, Nick, Ali, Trev, Maggie, Ian, Wells, Jane, Christina, Pedro, John, Elaine, Roy, Wendy, David, Dave, John and Charlie!
Also big thanks to Stefan Fritz, and to Duncan McEachan ashore on Kerrera for having the wild idea that became Friday evening, and for making it all happen!
There is light ahead, and we will be planning more Sessions and Sail trips in 2022.
All the best, and fair winds -
Barry