It's hard to say who had suffered more from the 18 months enforced 'lay up' - me or the sailing ship Lady of Avenel.
While I've been isolating in a Glasgow flat or a Cullivoe croft writing music, gaining new skills in music production, and finishing a music degree, the ship has been sitting in fresh water in Heybridge Basin, awaiting a crew to get her back in sailing condition. 
There's an old saying that 'ships and sailors rot in  port', and while I would argue that my own time hasn't been too badly spent, I have rarely seen a ship in greater need of salt water.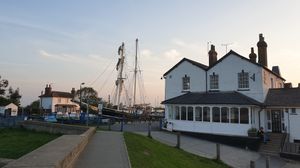 Lady of Avenel locking out of her lay-up berth in Heybridge Basin, near Maldon, May 27th 2021
 
Five weeks in Maldon disappeared in a bit of a blur - somewhere among it all we cleaned every surface above and below decks; stripped back hideously flaking deckhouse roof paint; prepped and painted topsides, deckhouse sides and deck house roof; sent up and bent on ten sails, and rigged haliards, buntlines, clewlines and sheets. There was welding - plates set in at deck level where the old steel was thin; replacement futtock bars aloft; and machinery and batteries were overhauled.
My hands - more used recently to handling a fiddle or guitar than hempex ropes and diesel filters - cracked, split and ached along with muscles unused to shipboard life since 2019. The all-consuming nature of ship life took over, and we hit our stride. Life rafts arrived, blocks and boxes and equipment, a new galley stove, were loaded aboard and secured in place.
With an excellent team assembling, our target of being sea-ready by June 12th - unthinkable just a few weeks earlier - began to appear doable, and by departure-eve, even the sudden need for an emergency replacement fridge for the galley couldn't slow us down.
The high tide at Maldon is a strange thing, to a Shetlander. For 16 hours a day, the ship sat in a 'mud-berth', with a trickle of water 'nae mair as a burn' ran past our port side. Egrets,Canada Geese and Shalders called out as they waded and browsed the thick brown mud.
Two hours before high water, there would still be little sign of any change, so far up the river Blackwater. Then, so quickly you can watch its advance, the tide appears, streaming in, filling up the river. Eventually, with a squelch and a shake, the 'Lady' would free herself from the mud, floating proudly for a brief while until the water ran out once more and she settled back into the groove she had work in the mud.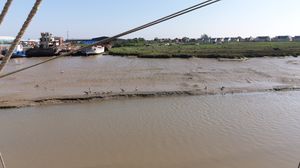 Maldon Creek - the tide just beginning to rise.
On June 12th, High Water was at 1445; and by 1330, we felt as ready as we could be, having frantically sent ashore anything we didn't want to bring to Scotland, and, very hopefully, getting aboard any last thing we thought we might need. Last-minute runs to chart suppliers, tobacco shops, and concernsa about what else we may not have. A ship that hasn't been to sea for 18 months, and has been a construction site for the past 5 weeks, is a hard thing to get sea-ready.
But with Jim's powerful workboat on the port bow pulling, and his right hand man Dave in another boat pushing on starboard, after a long struggle with the mud the ship pulled out into the channel. Past Maldon we steamed, the Saturday heat-wave meaning the pub, the river banks and the Blackwater were all filled with people - sailing dinghies, walking dogs, drinking pints in the sun. Out the river, past the 'Ross Revenge' - the ship that once hosted Radio Caroline - and towards the open sea.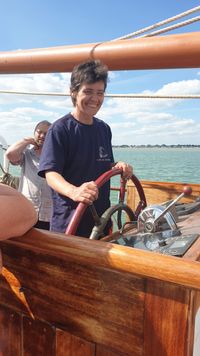 Mate Carol Anderson, happy as the rest of us to be heading out to sea
We paused at Brightlingsea, anchoring overnight in the Pyefleet anchorage to allow secure and inspect all round. There's no better feeling than leaving the land behind on a ship - getting back in to the sea state of mind once more, where the complications - and assistance - of the land are outside your sphere of existence, and the ship can live independently as she is designed to do.
With anchors and hoisting gear working well, the ship stowed for sea and the propeller thoroughly inspected, we continued on our way the following morning. The bottom end of the North Sea is a maze of sand banks, gas rigs, wind farms and cardinal buoys, and we picked our way through these, sometimes under sail, sometimes under engines.
A day of this took us blessedly clear, and we diverged with the British coast, steering a line to pass close by Rattray Head, off Peterhead. The wind, calm for the first night (See below!) did what a forecast almost too good to be true suggested, and filled in force 5 from the south-west; the sky remained clear, and soon we were leaping up the North Sea at speeds up to 9 knots.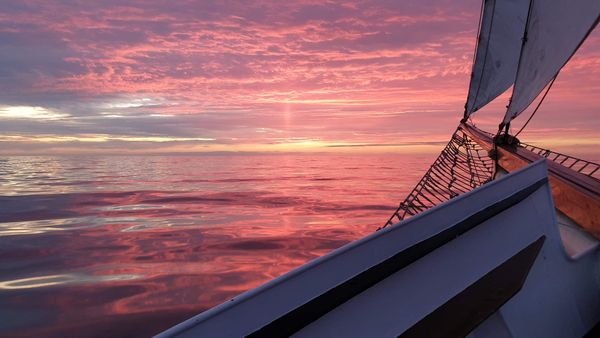 'Sailor's delight' - calms before a fair wind in the North Sea.
Our crew was gelling very well; Aodh and Nessie (Carol's shipboard name!) worked hard on the unfinished jobs, painting hatches and decks; Tom, our carpenter, and Andy, regular volunteer, fixer of anything, and de-facto ship's entertainer, with the help of Millie, got stuck into the rigging. Sean, a maritime historian, experimented with sextant corrections and told us arcane stories of maritime lore. Donal, in addition to the 12-4 watch took charge of the galley and provisions, keeping the saloon stowed as it should be, and ensuring the food was consistently excellent.
With music too - Carol and Donal both being excellent fiddlers, and me on guitar, we were able to finish the work day and go into the night watches with a few tunes on deck. Never was such a fortunate crew!
By the 17th, we had reached Wick, where we were joined by Jasmine and Harry; a quick pint ashore, our only rain of the voyage so far fell during the night; and with the sky clearing and the new joiners and a large order of stores onboard, we were on our way once more.
We had joked in Maldon that the inevitable list of unfinished jobs was the 'Pentland Firth' list; however, flat calm conditions in the Firth found us painting decks, varnishing the helm console and rigging conduit on cables aloft. A favourable tide saw us motor past Dunnet Head on the longest day of the year, and by the early hours we were coming up on Cape Wrath.
The following day we dropped an anchor in stunning Achmelvich Bay. The wind was forecast to fill in from the North West, and we were making good time so we may as well anchor somewhere nice and wait for it!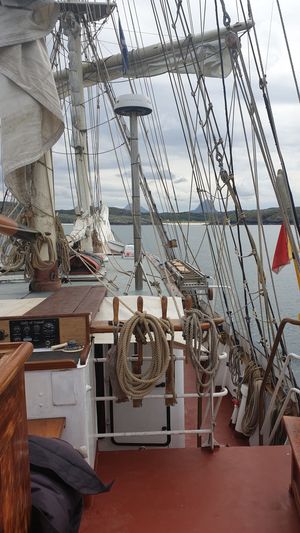 Achmelvich ahead! Plus some sure indications that we have reached the West Coast.
Sure enough, the forecast was as good as its word; and we set sail from Achmelvich Bay with a beautiful North-West breeze to carry us down the Minch. The Shiants were our destination; and we anchored in the bay there, our view criss-crossed by the flight paths of puffins and the fetor of guano filling our nostrils!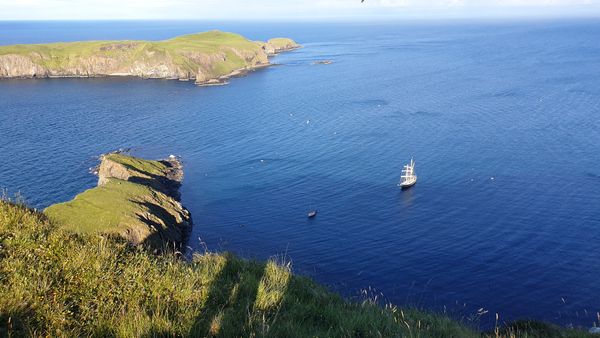 Lady of Avenel anchored at the Shiant Islands...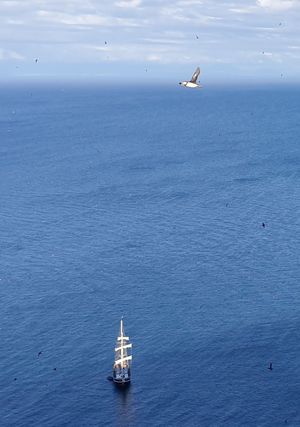 ...criss-crossed by puffins!
The fair winds were forecast to hold for one more day; we decided not to waste them, and set off at 0800; 14 hours of full sail took us down the Minch towards South Uist. And of course, for tunes on the way, what else could we play?
At Lochboisdale, anchored by evening, we were joined onboard for tunes by Anna-Wendy Stevenson and Simon Bradley; the following morning we moved to the new harbour and loaded bunkers. By afternoon we were on our way to Barra.
And what better end to a trip for a musical sailing ship like Lady of Avenel than to make acquaintance with another boatload of musical sailors? In Barra we were tied up just along the pontoon from the 'Lady Flow', a sailing boat with a difference: Marieke Huysmans-Berthou has adapted this vessel to feature a piano that raises from the aft deck, and has sailed from the South of France through the West of Ireland and now Scotland, giving concerts to audiences ashore.
https://pianocean.wordpress.com/
There was time for once last session in Barra before our crew dispersed! This has been a real reminder of how good sea-life can be when a good crew comes together; and a real affirmation of how integral music is to that life. And in a time when Covid is still succesfully putting a cap on all things musical, to sail for two weeks has been a very welcome respite.
Bring on Sessions and Sail!  Here's Harry Bird leading a rendition of the old shanty 'Santiana' on our farewell night aboard in Barra: