Dear friends! 
It's now September, and it still feels as though we're making life up as we go along – there's still no sailing, no gigs, and it seems to be a case of adapting day to day, finding a way to survive and then rewriting it all as the situation changes.  
I'm used to having a sense of purpose, generally having several projects on the go, a mix of musical and maritime, at all times; and I'm struggling a bit with having these taken away.  
In lieu of any sailing adventures or such excitement this year, it's been nice to recall some of my past voyages in this blog. I'm going to try to up my output to a weekly post – let's say every Wednesday!  
It's also been good to have a musical focus so I'm planning to keep the weekly videos coming on Youtube. If there's any requests – or if anyone wants to collaborate on a video or on some music – get in touch. Otherwise it's really encouraging when folk subscribe to my Youtube channel!  
Anyhow, here's the next instalment of my Søren Larsen voyage account!  
Cheers, Barry  
- - - - - - - - - -  
Sailing through the Caribbean was about as good as it sounds. The north-east trade winds drove us west to the Venezuelan islands of Margarita and Los Roques.  
In Margarita eight of us piled into an impossibly battered Dodge and were driven up dusty roads to La Ascunción, a 16th Century Spanish town in the dry interior of the island. We were back aboard the ship by the time the Sunday night parties kicked off, and the sounds of Latin beats were still drifting across the water to our anchorage as I kept my 2-4am watch.  
Terri and Jim were both veterans of the last time the ship had come this way, and told a hair-raising story of their visit to Los Roques. With the 1992 coup recent and the 1993 elections happening, partisan armed police had arrested the ship and held the crew at gunpoint; the story of their midnight escape might be better told by Jim Pearson, if we can persuade him…  
Bearing this story in mind, we made a careful, short stop at these stunning islands and were thankful to see no armed police, sailing on by nightfall.  
Bonaire, our next stop, is a Dutch colony, and seemed very ordered and neat after the Venezuelan islands; we did our best to remedy this.  
The ship was safely tied alongside the pier; the water sheltered, the wind still, and I had a night clear of the watch bill. Knocking off at 6pm, I walked up the pier and got as far as the first pub, where Daphne and Dave, just back from a jaunt round the island, called me over for a drink. Soon, Sally Anne, Jim and Troy arrived; there was a round of rums. A brief chat at the bar with the crew of a large motor yacht, all dressed in matching polo shirts, made us glad to be tall-ship sailors on a 'proper voyage'.  
More crew members arrived; more rums were bought. Nick was telling hilarious stories; our First Mate Sal, his sister, chipped in with a few of her own. Soon we were all there, with the exception of Captain Colin, who had taken the evening watch; and Lucy and Andrew, who both had watches in the early hours. Nine full-time crew, 22 voyage crew, and a liberal supply of rum.  
There's not much better after weeks at sea than a good crew in a bar ashore on a night off in a secure harbour; we'd already bonded through rough weather, long days and night watches so we enjoyed ours, talking of other voyages and ships, places we'd travelled or wanted to, laughing with the bar staff, telling stories and doing our best to exhaust the rum supply.  
We left the pier under sail at 0700 the next morning, doing our best to wake the whole town with our shanty as we hoisted the main sail fifty metres off the pier, our ship already gathering way towards Curaçao. By the time we rounded the south of Klein Bonaire, we were under full sail and any hangovers were left far behind.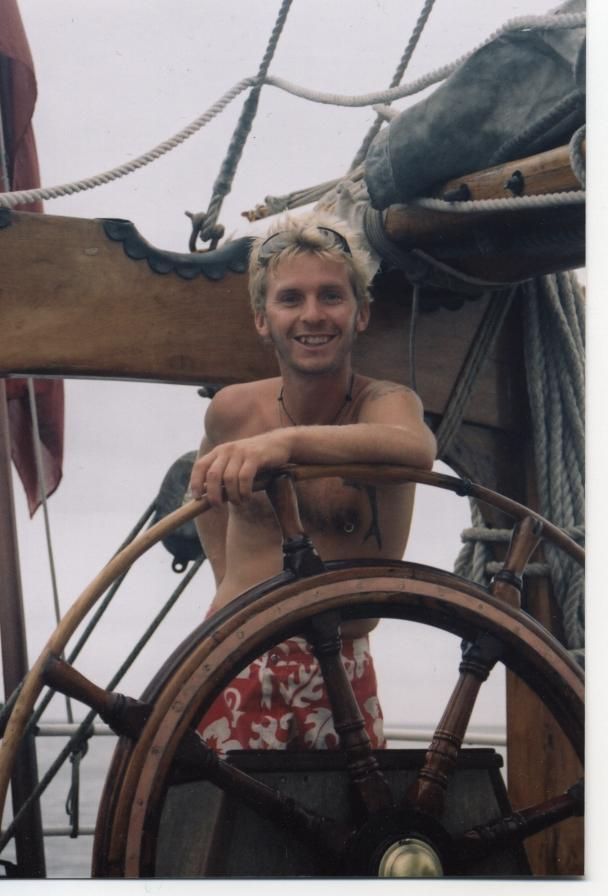 At Curaçao we loaded stores, embarked a new voyage crew and set off on our passage west for the Panamá Canal. Motoring past the pastel buildings of Punda, through the floating Emmasbrug bridge and back out into the open sea, we found a rising trade wind and, soon, a rising sea.  
By 25th January we were hurtling along at ten knots, deep blue waves the colour of precious stones rearing up astern, foam-tipped and chasing us as thirty knots of wind filled our sails. Flying fish skitted off to both sides as our bow ploughed into the seas ahead with a constant surge of white foam.  The morning skies were clear, dotted with small fluffy cumulus clouds that would develop and grow to become huge, towering cumulonimbus by afternoon.  
Afternoon squalls became part of our daily routine. When the imposing clouds approached from windward, their undersides dark and heavy with rain, we would call for extra hands on deck to shorten sail. The rain made a menacing hiss before it arrived, a growing, definite line of white on the sea surface; we raced round the deck, hauling on topgallant clews and buntlines, upper topsail and outer jib downhauls, securing the lines around the deck as the wind increased with a rush and the torrent poured over us, tropical rain drenching our hair and shorts.  
This superb sail took us to Colón, on the Atlantic side of the Panamá Canal, well ahead of schedule; we covered the 725 miles from Curaçao in just over five days. As we drew closer to the port, the traffic grew more and more dense as container ships, tankers and cargo ships of all sizes converged from ports in Europe, Africa and the Americas, all queuing to use this slender gateway to the Pacific.   
We picked our way through the multitude of anchored vessels to our designated spot in Limón Bay and dropped an anchor. Here we would sit for the next three days.