With all my sailing now sadly cancelled for this year, I may as well, as promised, begin to tell more of the story of my first trip aboard the Søren Larsen.
On passage from the Mediterranean to the Falklands as 3rd Mate on an oil tanker - the Maersk Gannet -  I had hand-written thirty-six letters applying for work aboard various tall ships. I also applied to Strathclyde Uni to study a BA in Applied Music; I was clearly pretty keen to leave the tankers behind one way or the other! I stashed all the letters in my luggage, ready to post when I next reached shore.
In one real fork-in-the-road week, when back home on leave, I was turned down for the uni course, offered a job aboard the brigantine Soren Larsen, then called by Strathclyde to say there was a place for me on the course after all. By this time I had accepted the sailing job, so the decision was made!
I boarded Søren Larsen in Charlestown, Cornwall in September 2000, and was soon in the thick of the refit. Working with the engineer, I helped strip the old B+W Alpha engine right down while the deck crew prepared the main mast for removal. I was amazed how much work got done in a month - a new main topmast made from douglas fir; new galvanised steel shrouds and stays made up for mainmast and topmast, all parcelled, served and tarred; both anchors off; the windlass lifted ashore.
The work days got longer and our one-day-off a week disappeared as departure day approached.
It was the wettest month on record in Cornwall, and when it wasn't raining, water dripped and ran off the stone harbour walls. Even in my bunk, with the wooden deck 18 inches above my nose, the sound of the dripping rain above permeated my dreams; but, rain or no rain, it felt wonderful to be aboard this ship. The long days, and the occasional pint of Conish Ale, soon forged us into a team and I looked forward to going to sea with my new shipmates.
Somehow we got the work complete in time; our first voyage-crew group of paying guests joined us with a terrible forecast in the offing - a proper equinoctial storm system with force 10 southerlies. We sheltered it out in Falmouth Harbour, sailing at first light once the front had passed and the wind swung round to the north.
The passage south went by in a blur, with little sleep and the steepest learning curve I have ever gone through. Night watches especially were an experience, barreling along before the wind in five metre swells with swathes of rain and spray coursing across us as I and the six others on my watch huddled by the wheel.
I would 'wake' for watch, if you could call lying in a dark bunk in the heaving forecastle, lifting off the bunk weightless over some of the larger swells, holding on tight as we rolled, and going over in my head every scenario I could consider that may go wrong, sleeping. It was generally a relief to be called just before midnight and to stagger up into the blackness on deck, trying not to spill a coffee, and be given a concise but reassuring handover by Tony, the Captain and owner of Søren Larsen.
Four days of tumbling crashing waves and following gales gave way at last to calms, sei whales, sunsets and the chance to spread a bit more canvas; a further week of varied north-atlantic conditions, and one more gale, brought us to an anchorage at Funchal, Madeira.
The daylight was a little too bright for my eyes as I looked up at the mountain; tired but inspired, I felt like an initiation ceremony was over.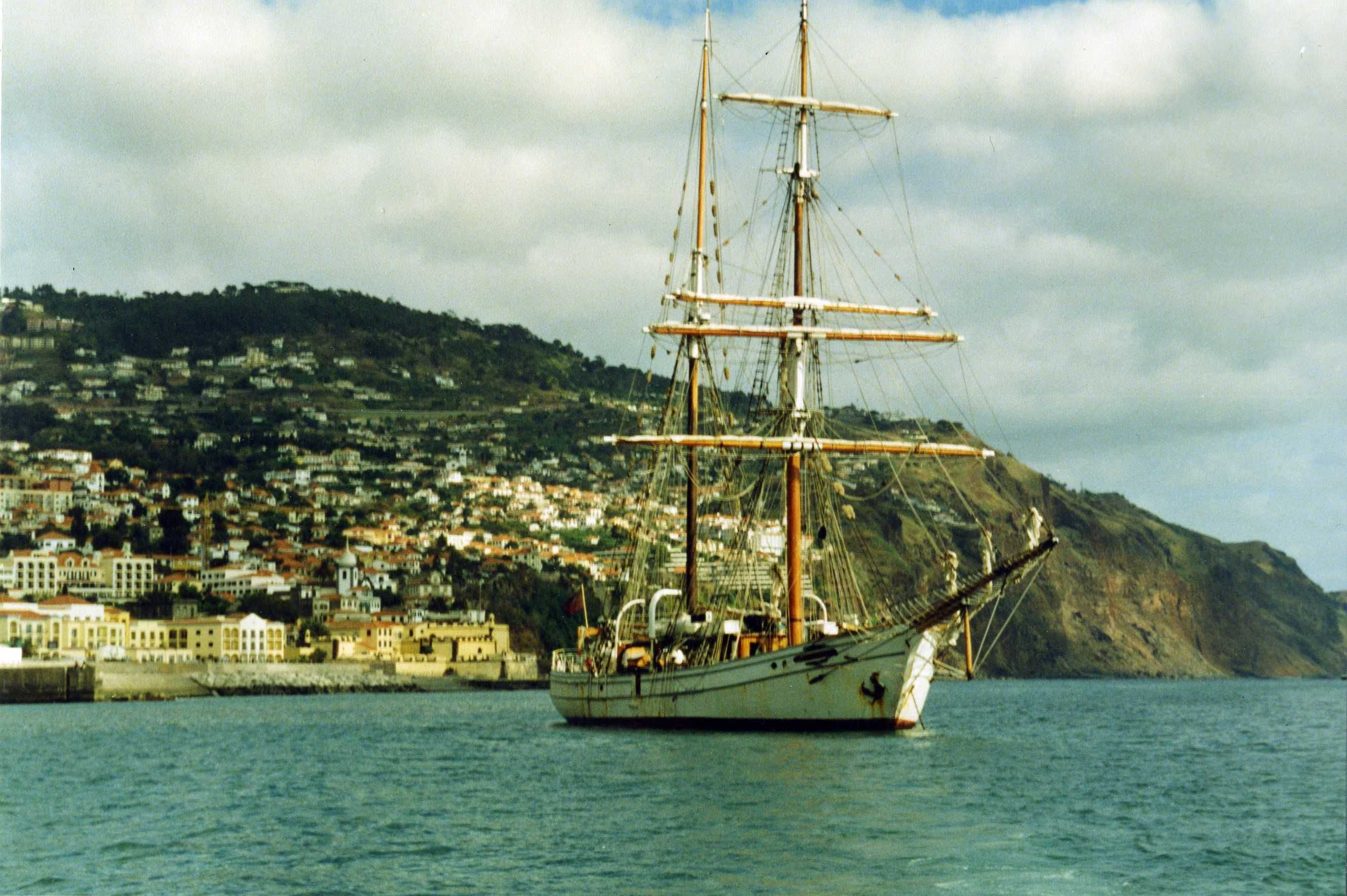 Søren Larsen at Madeira, November 2000.