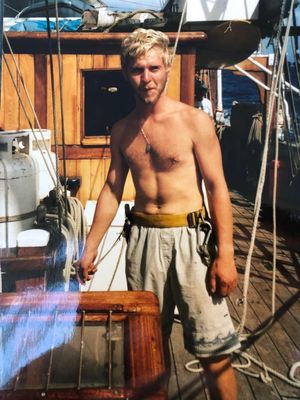 I was recently sent this picture by my good friend and shipmate Jim Anderson from Fremantle, and it's taken me right back to sailing the Pacific!
I've always made this site primarily about my music, but it's nice to tell a story now and again. Especially right now, when all this being cooped up is really making me - and no doubt others - dream about travel and widening our horizons once again.
I signed on the tall ship Soren Larsen as 2nd Mate in September 2000 - I'd guess the pic above will be from 2000 or early 2001. I'd been working at sea as a cadet and 3rd/2nd mate aboard oil tankers, but my heart wasn't in it. I was looking for two things - music, and adventure. I recall night watches on the deck of a tanker when my head would be bursting with musical ideas that I was desperate to put together, and the agony of having no outlet for them. I was also driven mad sailing past shores that fascinated me; I promised myself that soon I would travel properly; and that I would give the music a chance.
So, I resigned from Maersk Tankers in July 2000; my last tanker was based at Ascension Island, where I learned the stories that later inspired me to write the song Comfortless Cove.
By September I was aboard Soren Larsen in Charlestown, Cornwall, preparing for a 13-month trip to New Zealand; intimidated by the ship and the challenge, but more excited than I'd ever been when starting out on anything. Here she is - the Soren Larsen. Maybe I'll tell more of this story if it's interesting...
Stay well,
~B~