Across the bay to our right, the yellow ferry that plies the Magellan Strait was tied up for the night. The tarred road ahead of us led out of tiny Porvenir, the colourful buildings giving way to straw coloured grassland and low bare hills. The sky was bright but obscured by ragged clouds driven by a fresh, chilly breeze that rattled our straps and flicked hair across our faces. Ash and I walked slowly south with thumbs out, hoping we'd get a lift a bit further down the road before setting up camp for the night. 
We were headed for the southern tip of South America – or at least to our own 'ne plus ultra' at the other end of Tierra del Fuego Island, after making our way south down the length of Chile. 
*****
Three weeks earlier, a high-altitude four-wheel-drive road trip had taken us to the Chilean border through the remote south-west corner of Bolivia, first crossing the Salar de Uyuni, the world's largest salt plain, a place where all sense of perspective vanishes as a brilliant white surface stretches to the horizon under a blazing blue sky.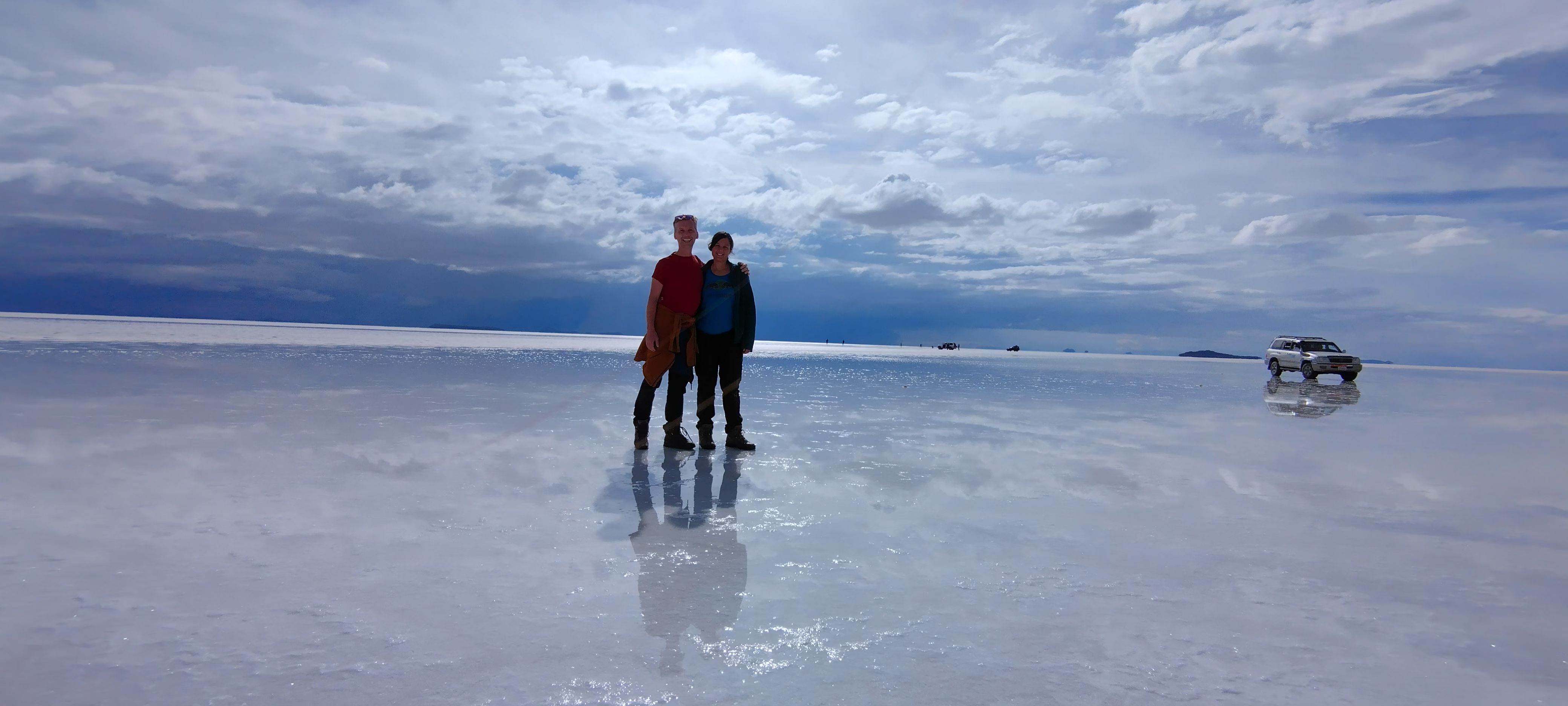 On the Salar de Uyuni
It took us a day of driving to cross the vast Salar; on the other side, flamingoes babbled on acid lakes amid bare mountain peaks as our guide drove rough trails and the weather worsened. Soon, thunder storms rampaged across the sky and angry clouds burst into frequent, heavy downpours. Domesticated llamas, and their wild cousins the vicuña, grazed and leapt on the grassy slopes of the Andean peaks as we passed through.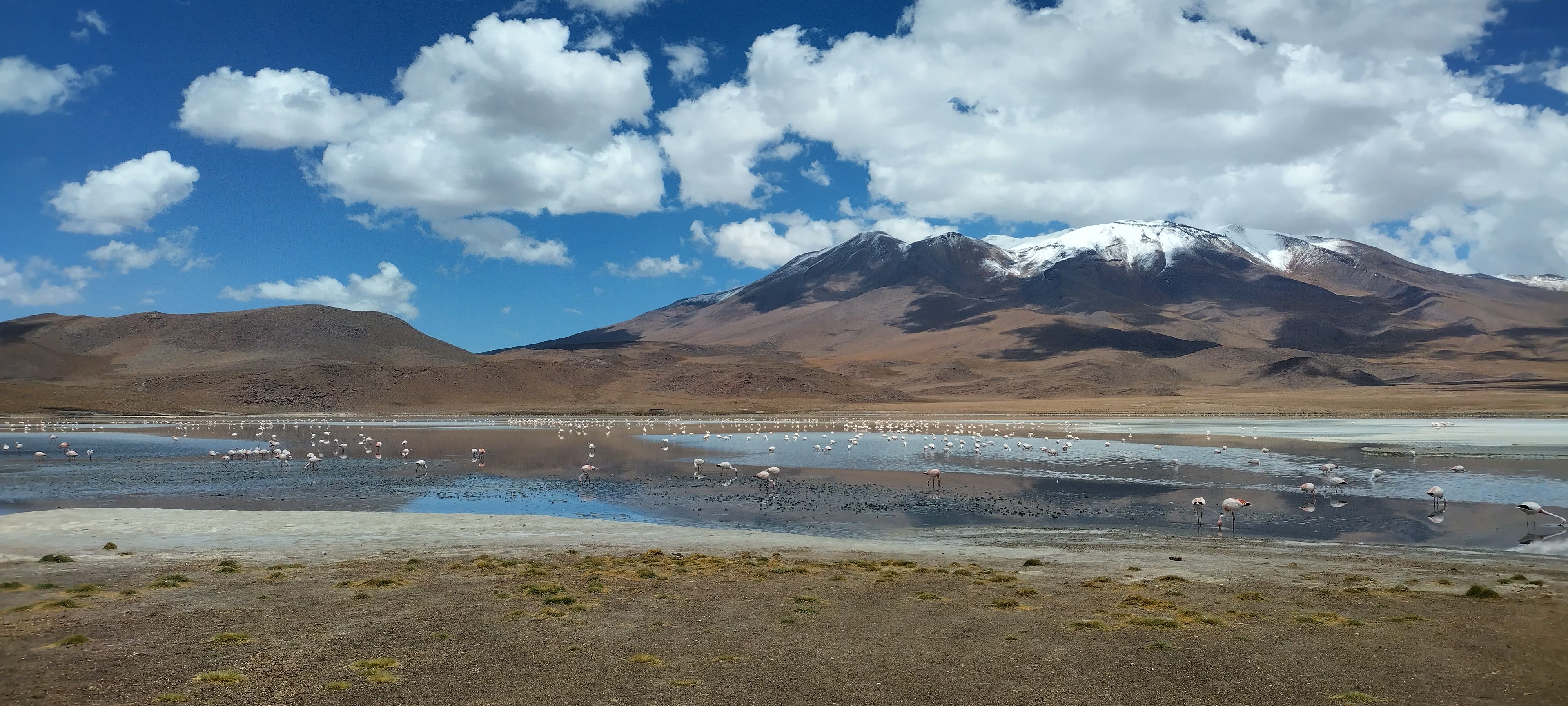 Flamingoes in SW Bolivia
Once across the Chilean border, a low-key collection of huts with a road that only led west, we descended a thousand metres down the other side of the Andes and into a completely different climate – the rain we'd experienced in Bolivian will never fall here, in the Atacama desert, one of the driest places on earth.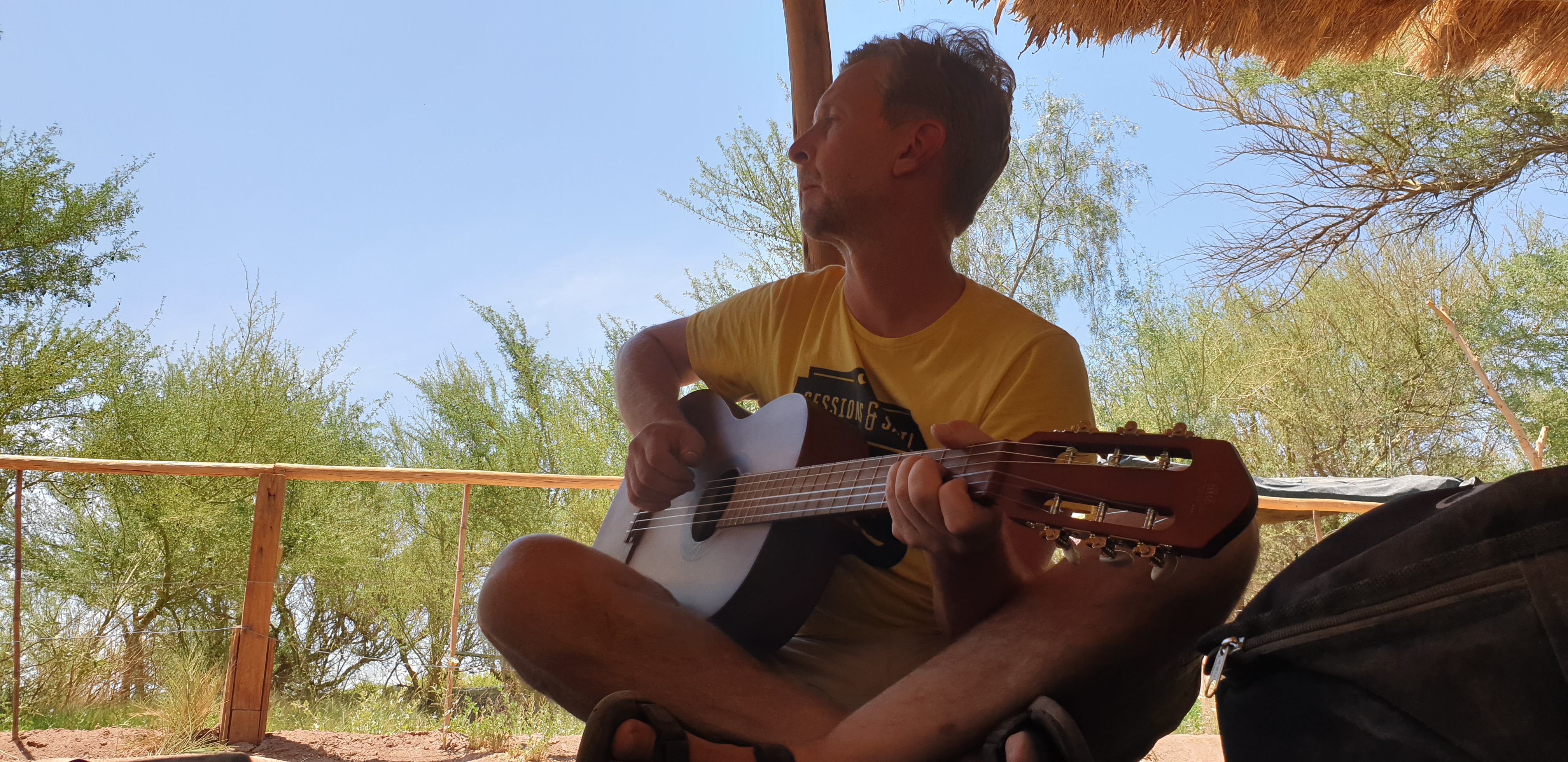 We camped in San Pedro de Atacama, a campsite in more developed Chile costing the same as we'd been using to paying for a room in Bolivia and Perú.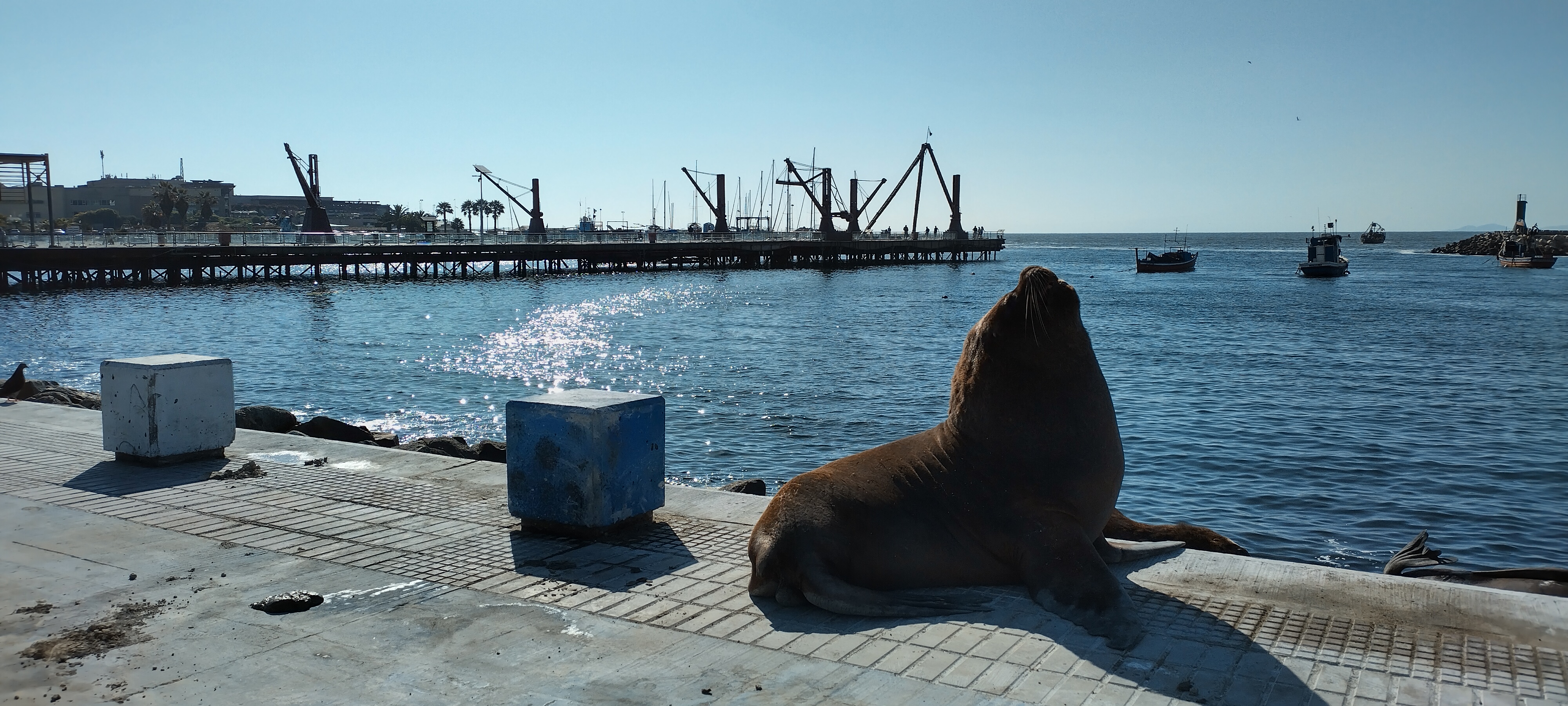 Making stops in the nitre port towns of Iquique and Antofagasta we bussed south as the landscape changed again from sandy desert with crystal clear starry nights to sparse green bush around La Serena and the wine producing Elqui Valley. Our surroundings grew greener still as we approached Valparaíso. 
We celebrated New Year in edgy, gorgeous Valparaiso,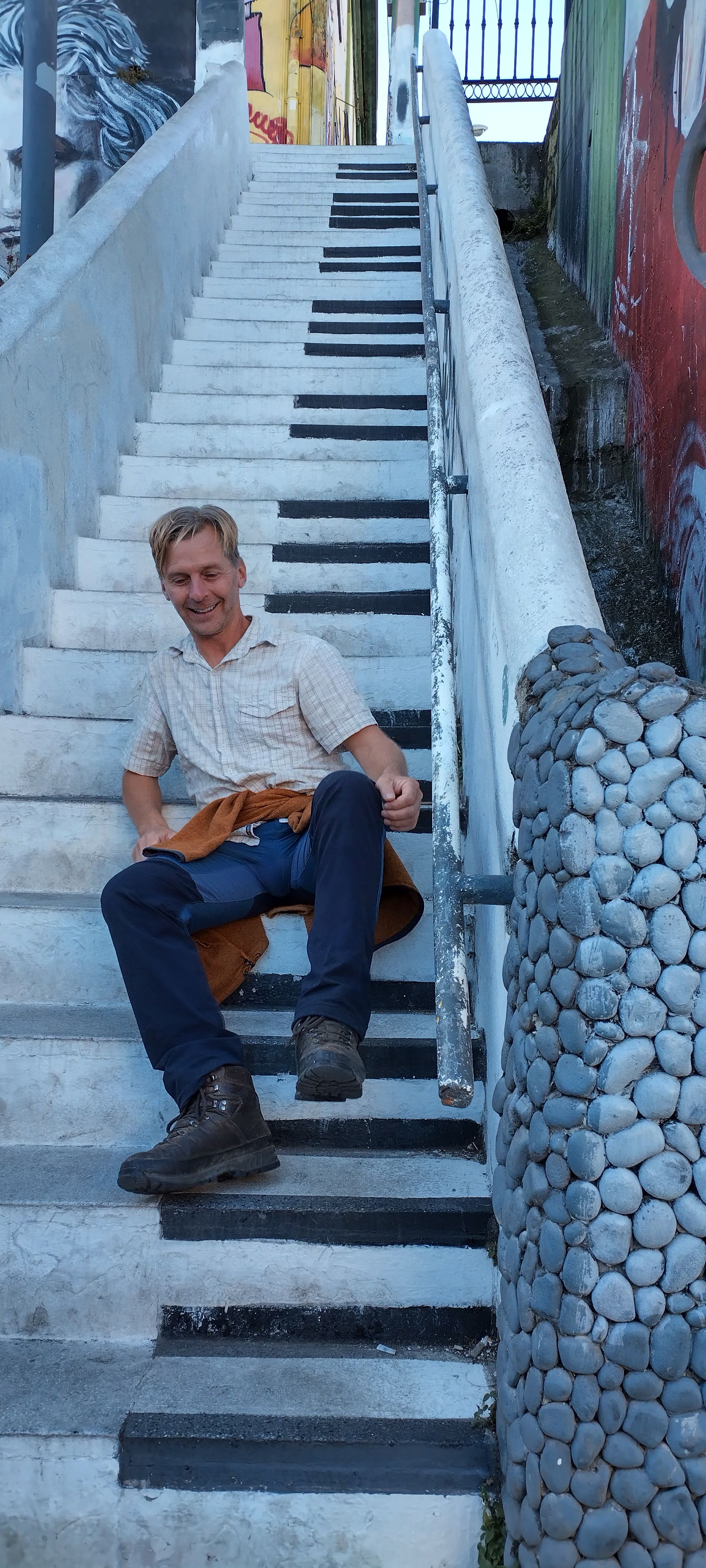 where murals adorn every crack, step, and wall; buildings climb the mountainside in a multitude of colours and architectural styles, descending to the harbour where fishing boats lie alongside bulk cargo ships.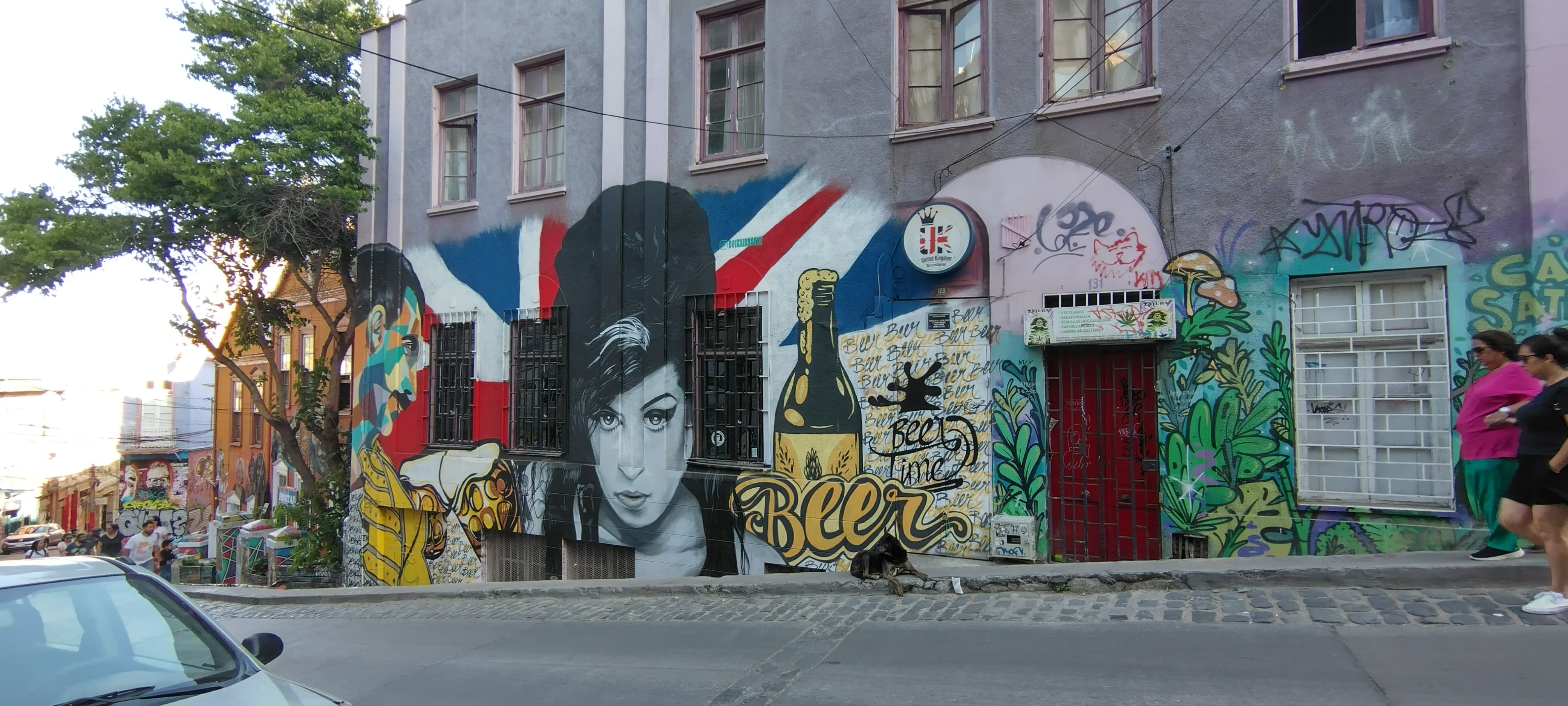 Live music bursts from buildings, bars and upper-floor windows, and the city hums with life and creativity.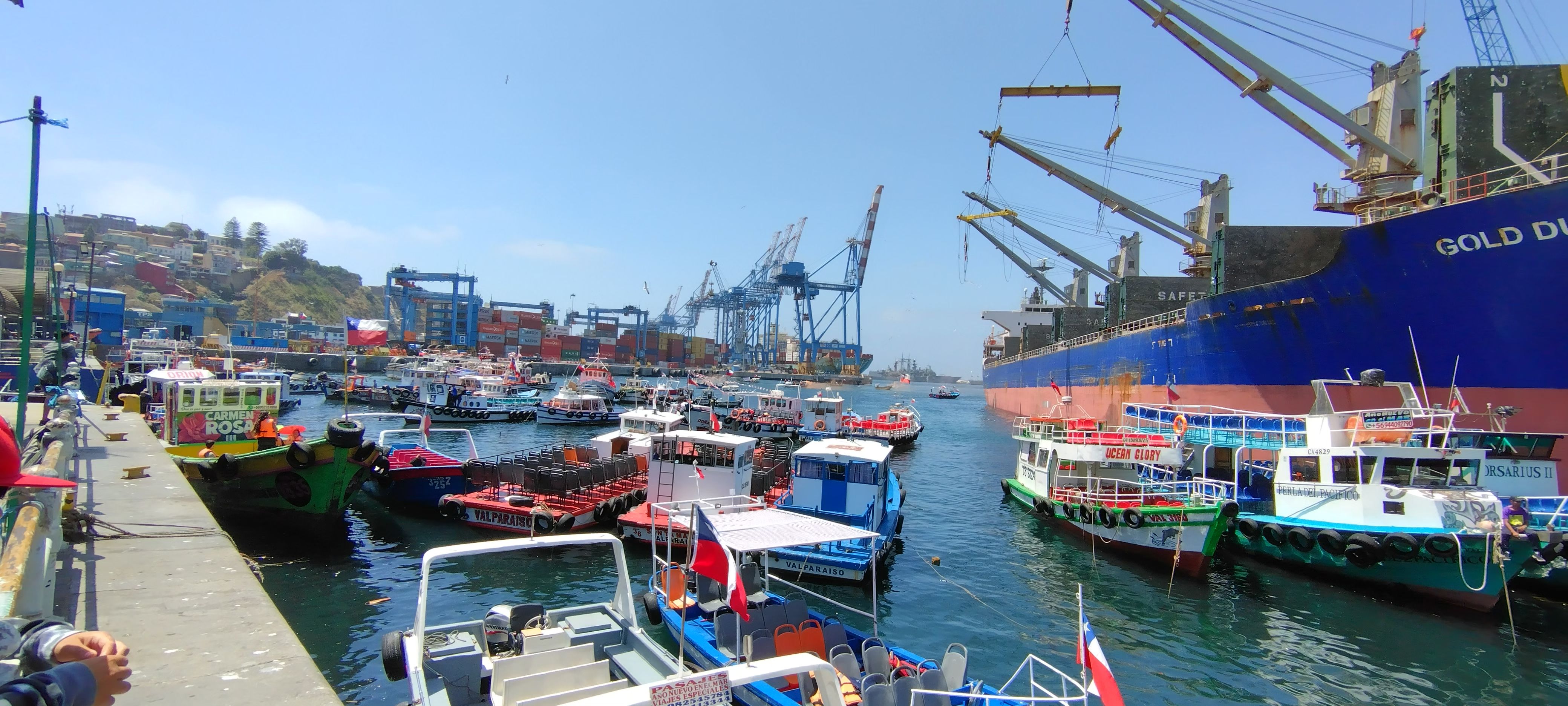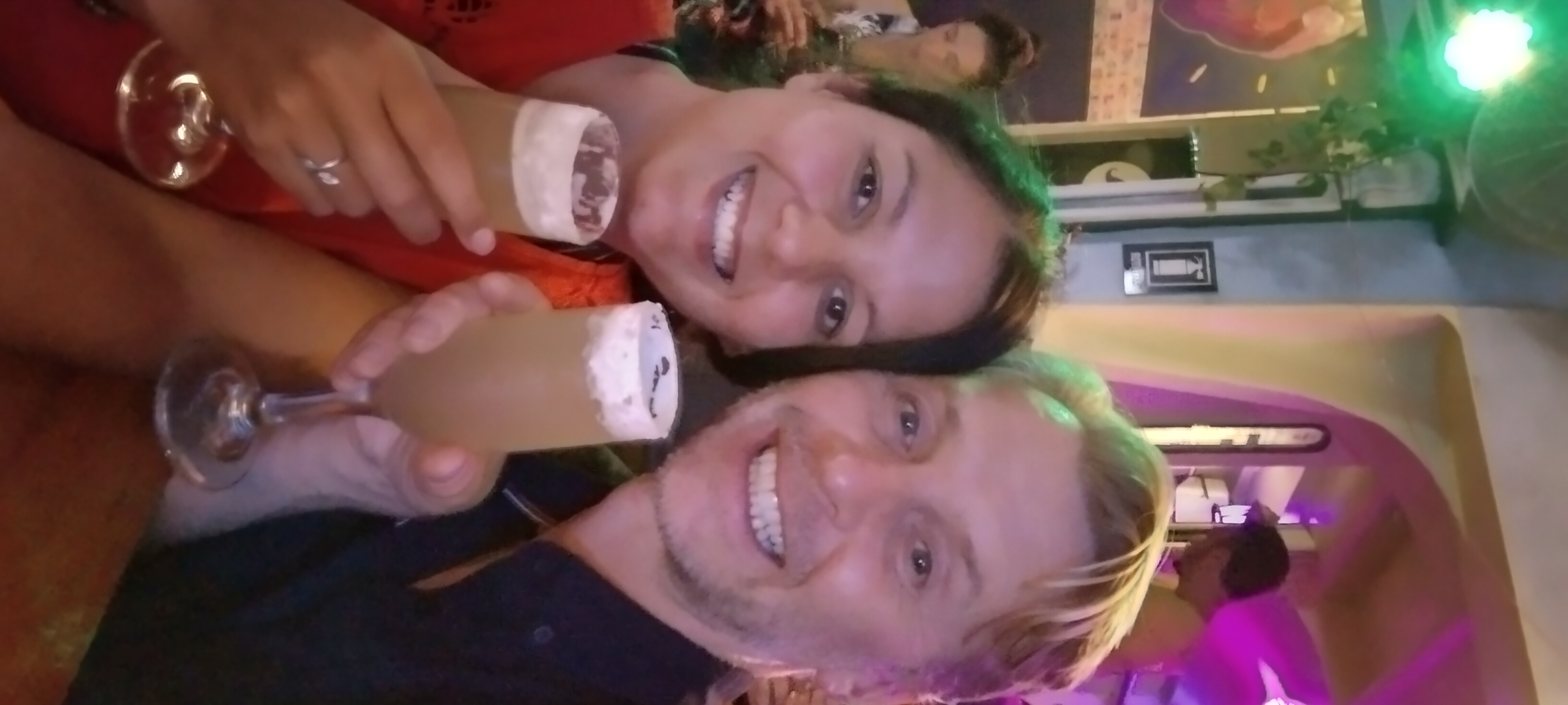 After a fun week here we flew from nearby Santiago south to Punta Arenas. 
*****
A Toyota pickup slowed and flashed its lights. A lift! 
*****
Hitch-hiking is the norm here in Patagonia and the far south, Eduardo had told us as the gas burning cast-iron range in his kitchen pumped out the only heat we'd found in Punta Arenas. A full gale blew outside, rattling the single-pane windows; occasionally a burst of rain blasted the glass. Maybe we'll wait a bit to set up the tent, I thought, taking my time over my coffee. 
"You might make Ushuaia in one day, hitching", Eduardo told us. Everything felt different than it had further north  – wilder, more exposed; the people different too. Eduardo was stocky, with jet-black hair and a hardened expression; but he smiled readily, and spoke with great enthusiasm about possible hikes – Cape Froward, the Magellan Strait, Puerto Williams. Or Tierra del Fuego and the Argentine border. I listened to the wind howl and thought of empty roads, remote campsites, sailors battling to round Cape Horn. "You're lucky", he said. "The rain will stop in the next couple of days. Then, a week of sun". 
"A week?" I asked. Always, he replied. Then a week of rain, then two weeks of westerly gales. Always. 
*****
The pickup slowed to a stop, and we jogged to catch up; in the front were two tourists, Tanya and Luka, from Switzerland. We soon discovered we all had similar plans – find a place to set up tents; eat; continue south across the border tomorrow. On a sandy shore by an exposed lake, where a few ruffled flamingoes swam, we weighed pegs down with rocks as the wind buffeted our tents. I boiled some lake water to make rice, only later realising the water was brackish, producing a heavily salted dinner; we ate hurriedly then retreated to shelter in the tents, hoping the pegs would hold.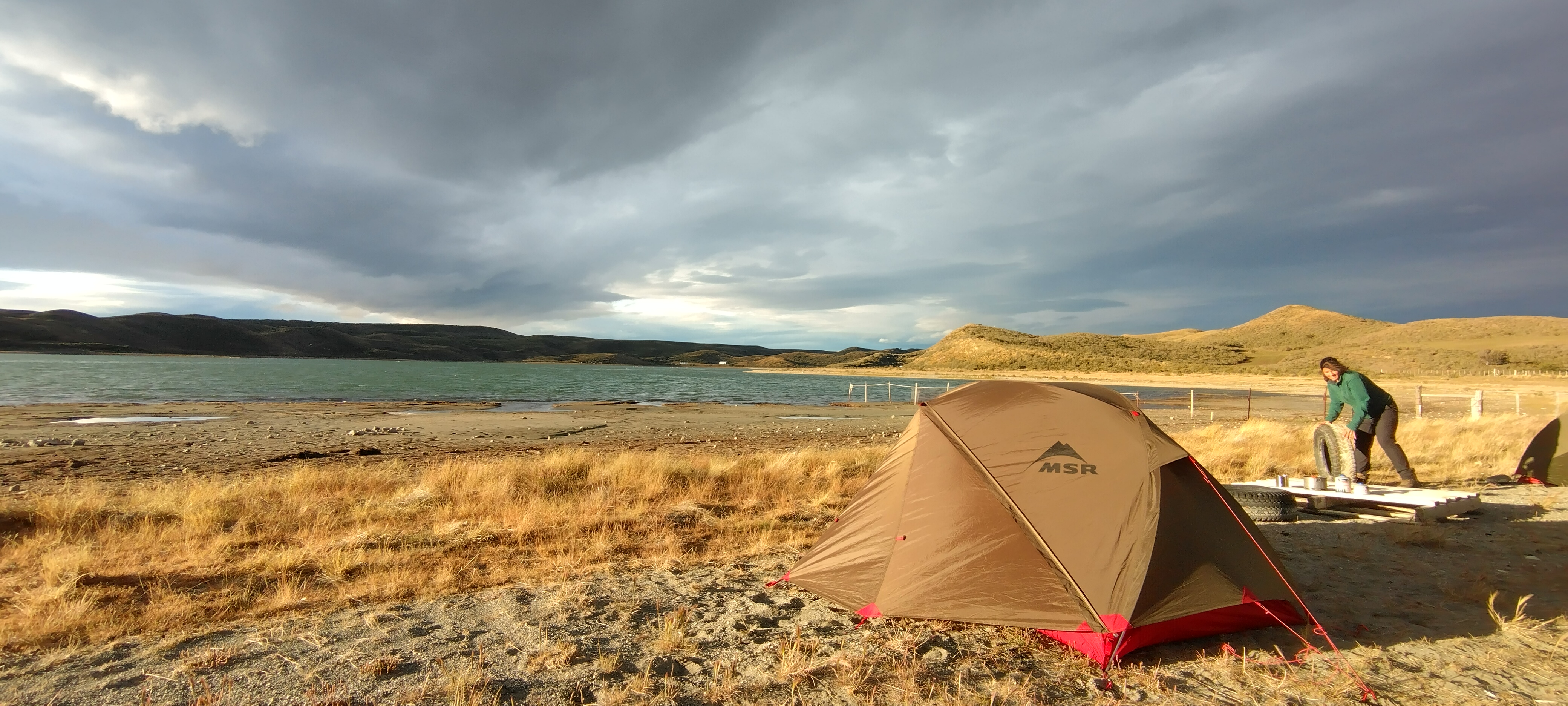 Our first campsite in Tierra del Fuego, a breezy spot.
The next day, Eduardo's prediction came true. The wind eased through the morning, and as we drove south the sky brightened. The road wound round 'Bahia Inútil', or 'Useless Bay' (definitely named by a sailor!)  Occasional, tiny hamlets of wooden houses (these houses would always be the same colour – economising on paint?) in various states of repair – stood on the low, bare hillsides; then two such groups of houses by the shore, each with two or three yellow-painted wooden open boats, shore-bound today as the white-capped waves still piled in from the west. 
Bahia Inútil has a King Penguin colony; we turned right down a dirt road and pulled up at a wood-stained building where the rangers met us.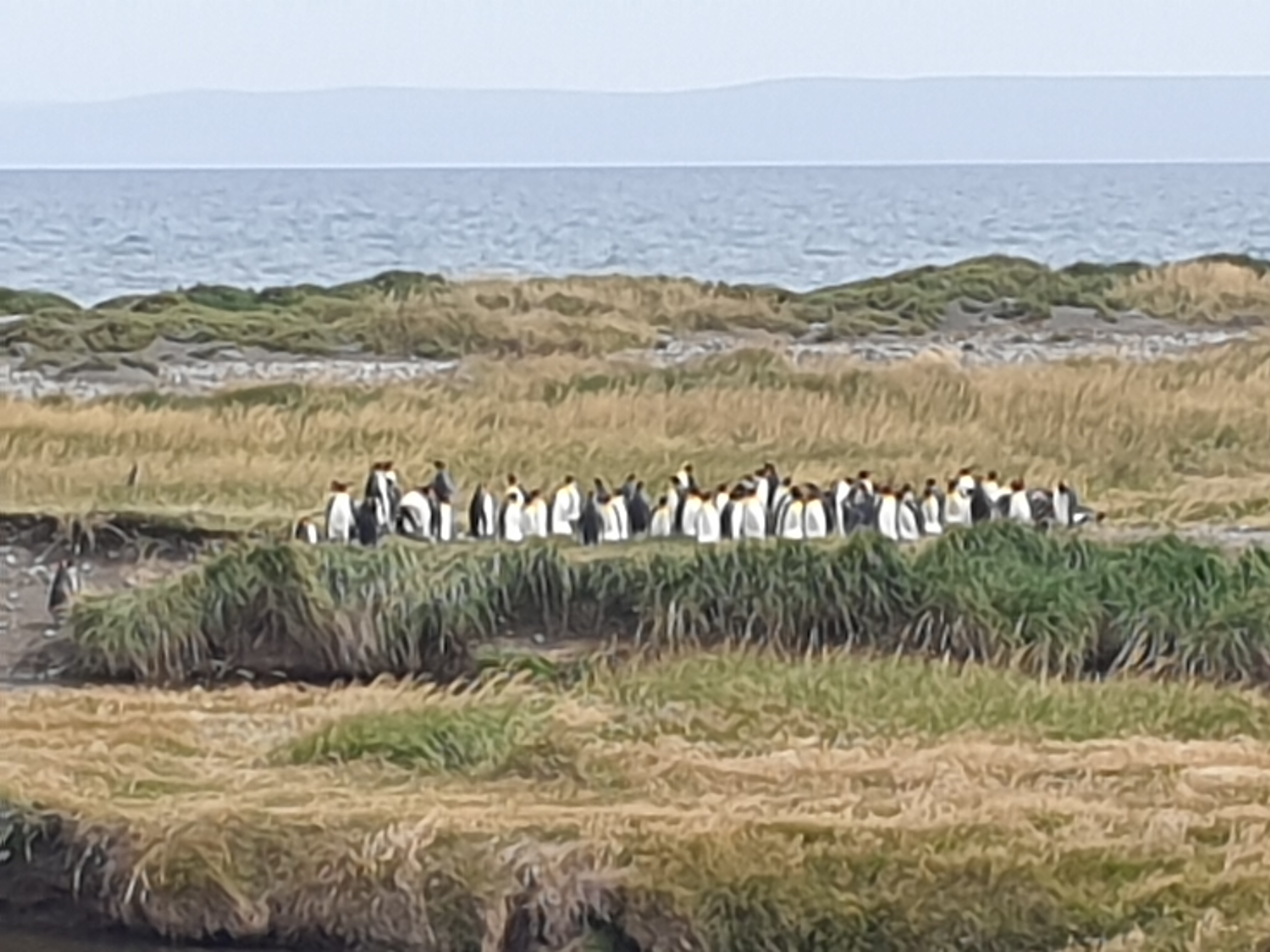 We chatted in whispers as they led us to two hides, stayed staunchly to the ground with steel wire, and smelled the sharp guano smell mingled with salt spray, watching the penguins make landfall from a grey Magellan Strait to rest on the beach before walking back to their colony of fifty or so birds.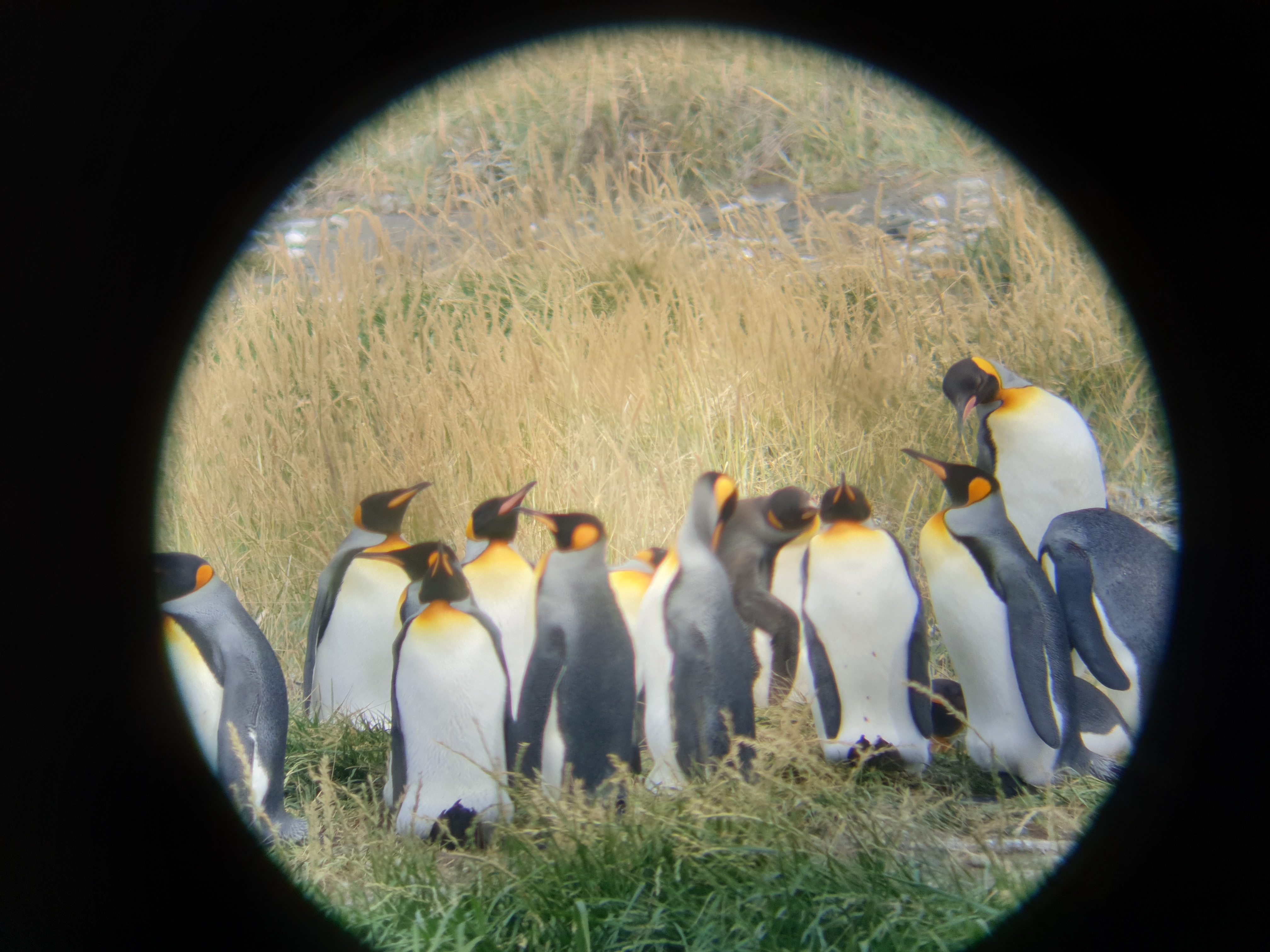 Occasionally a penguin would throw its head in the air and make a throaty, clucking call – these yellow-collared birds do this regularly to locate and connect with their partner. 
A roadside lunch of stove-heated soup to warm up, and we drove on. Now the weather really improved; by the time we reached the Argentine border the sun was out and the temperature had risen to the point where we could cast off fleeces. 
The border here took some time; over two hours to organise our departure from Chile, then another hour queuing and arranging our entry to Argentina. The border is a straight north-south line on the map, and divides the island of Tierra del Fuego vertically, and almost equally, between Chile and Argentina; it pays little regard to roads, geographical landmarks, or the convenience of travel. Plenty of time to consider how lucky we are (were?) in Europe to have freedom of movement, and to chat to the tattooed Argentine couple ahead of us in the queue, motorcycling south from Patagonia. 
Moving on at last, the terrain began to grow more dramatic, the grassy steppe country left behind, and soon we were skirting a tree-cloaked mountainside looking down on glittering Lake Fagnano. A few backroad trails through the forest later we found a campsite by Lake Margarita, nestled in a valley just south of Lake Fagnano. The still water and tree-lined lower slopes were reminiscent of an alpine or a Scottish highland lake, but the grey jagged mountaintops high above were a reminder that we were far from home. We swam, cooked, and enjoyed a peaceful night under the trees.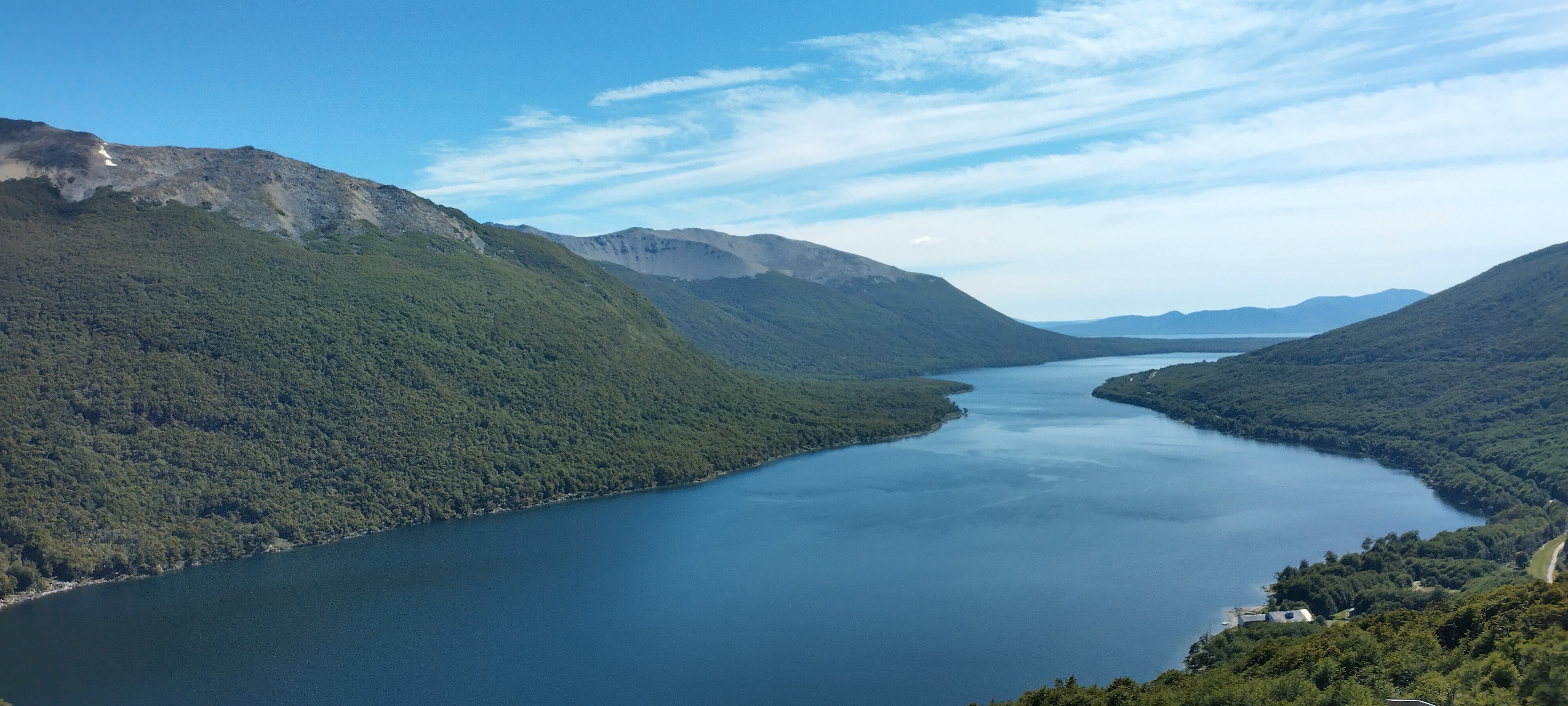 Lake Fagnano
At Ushuaia the following morning we said goodbye to Tanya and Luka. Looking over the town, and across the Beagle Strait, we could see the peaks of Navarino Island; just beyond that lies Cape Horn. Crossing to Chilean Navarino is prohibited from here, and the only route to Cape Horn is aboard one of the fantastically expensive cruise ships that sail out of the harbour here, so this would be as far south as we could get. We hitched and walked west from town, having stocked up on food and supplies – lentils, Argentine chorizo, garlic, onion, rice, coffee, porridge, honey, tinned fish – and by 6pm we were at the entrance to Tierra del Fuego National Park.
For four days, Ash and I camped wild in the park – pitching our tent by riversides where fish leapt and we cooked lentils one night, rice the next, bathing in the rivers, following the trails along the Beagle Channel shore, climbing the grey scree-slopes of Cerro Guanaco at 973 metres for a stunning view west towards the snowy Chilean peaks, east towards Ushuaia, and south across the white capped Beagle Channel to the Murray Channel and the end of this continent. The long evenings of the southern summer meant that we rarely made camp before 10pm, eating dinner by the twilight before darkness eventually fell sometime after eleven.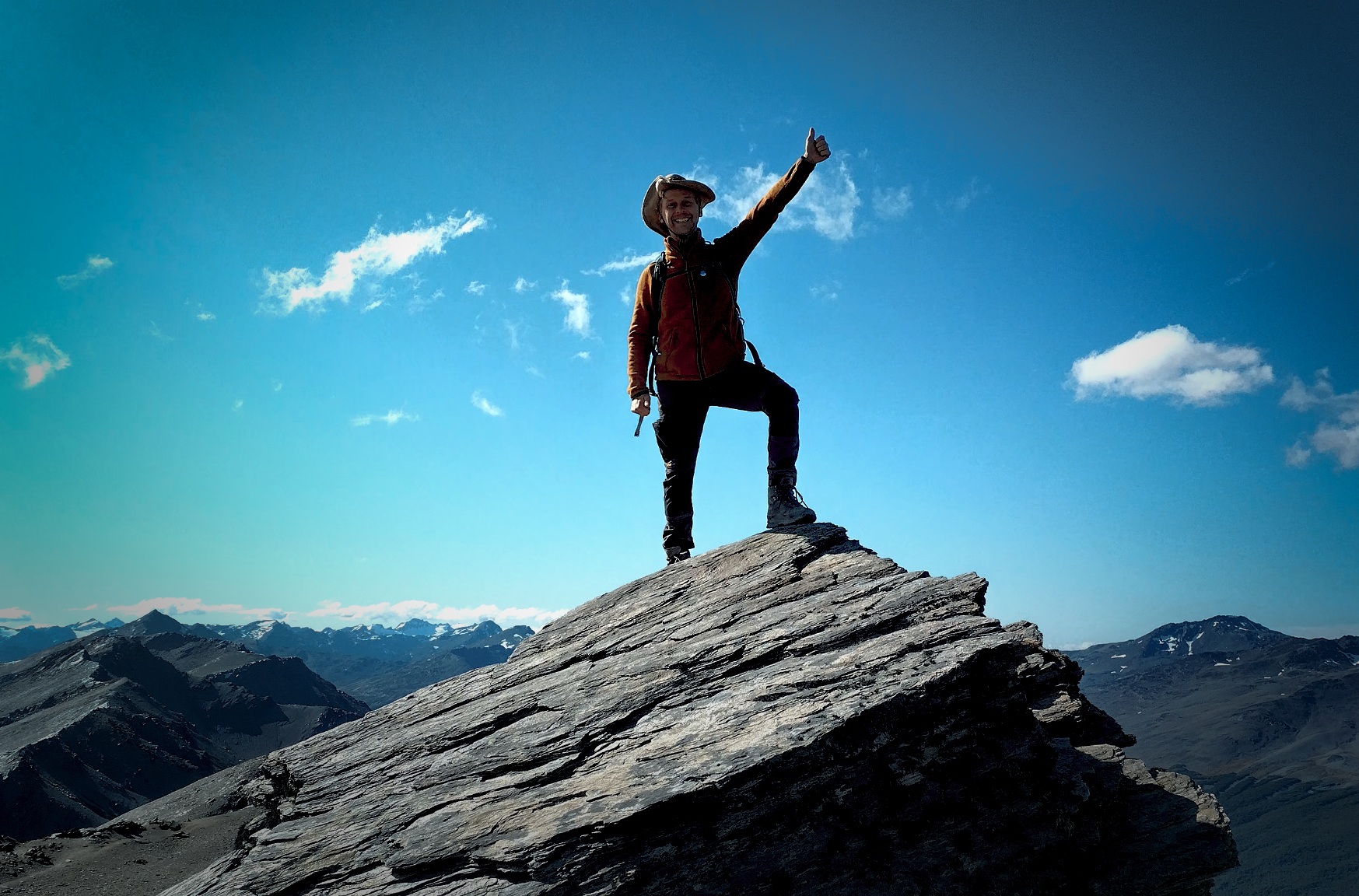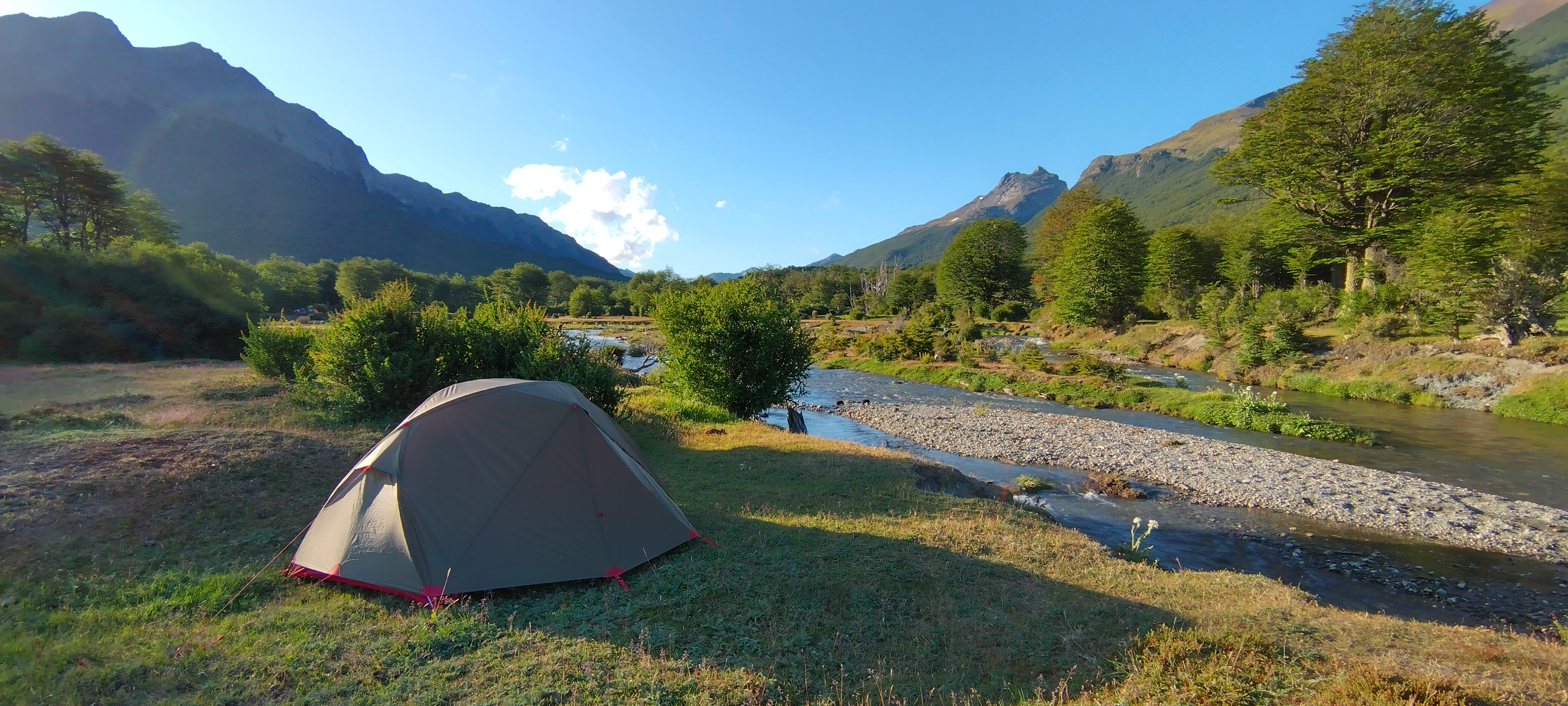 Atop Cerro Guanaco, apparently wishing I had a cutlass…!  - Idyllic campsite by a river, Tierra del Fuego National Park
Back in Ushuaia on our seventh day on Tierra del Fuego, and ravenous for something that wasn't rice or lentils, we found the best mutton I've experienced outside Shetland in a small restaurant. Then, thinking we might have left it too late, we set about trying to hitch out of town.
As we stuck our thumbs out on the road north, Miguel, a young guy who fits kitchens and interior carpentry stopped; he'd take us to the edge of town, he said; much easier to get a lift from there. 
He was right – as we were debating where best to stand to hitch a lift onwards, a white van slowed and a head emerged from the side window. "Río Grande?" shouted a voice exuberantly. Yes! Río Grande was further than we'd ever hoped to get this evening. We jumped in – a long-wheel-base transit van with the interior totally stripped out. Jorge, the man who had shouted, sat in the back – an energetic guy, early twenties, slim with fashionably trimmed hair. His friend, another Miguel, drove – more reserved, with an easy smile. Within five minutes Jorge had given us oreos and a glass of Fanta, and had asked us where were from, where were headed, and if we'd watched the World Cup. "I love this place," he whooped, as the views down into the deep valley whisked by the van and the lake appeared. 
North we flew, chatting about football, forest fires and conservation (the Argentine government has recently banned fires in all national parks – a decision not taken lightly, as the asado, or barbecue, is a fundamental way of life for Argentinians. But a necessary one: Tierra del Fuego is plagued by forest fires at the moment, having gone through one of the driest spells in its history. Even as we drove north we passed three fire vehicles heading the other way, their sirens blaring – "they're fighting a huge fire just over that hill", Jorge told us, adding that his friend is a fire fighter and suffered bad burns recently. 
Jorge talked at a hundred miles an hour, flipping from topic to topic. He seemed quite impressionable; having in his mind that we are Scots, he brought up the film Braveheart. "We don't like English people here", he said – "we say they are always drinking tea." He showed me a meme on his phone – a shamrock with a pro-IRA message. I said that people in Ireland these days see these conflicts as better left in the past; that peace is better; that ordinary people from Scotland, Ireland, England or Argentina normally get on and it's politicians that mess things up. "Yes – peace is always better", he said, "never war." But he was already showing us pictures of large joints of meat; you know when you've made friends with someone from Argentina or the south of Brazil as pictures of half-sides of sheep and huge steaks, sizzling on asados, are shared and drooled over.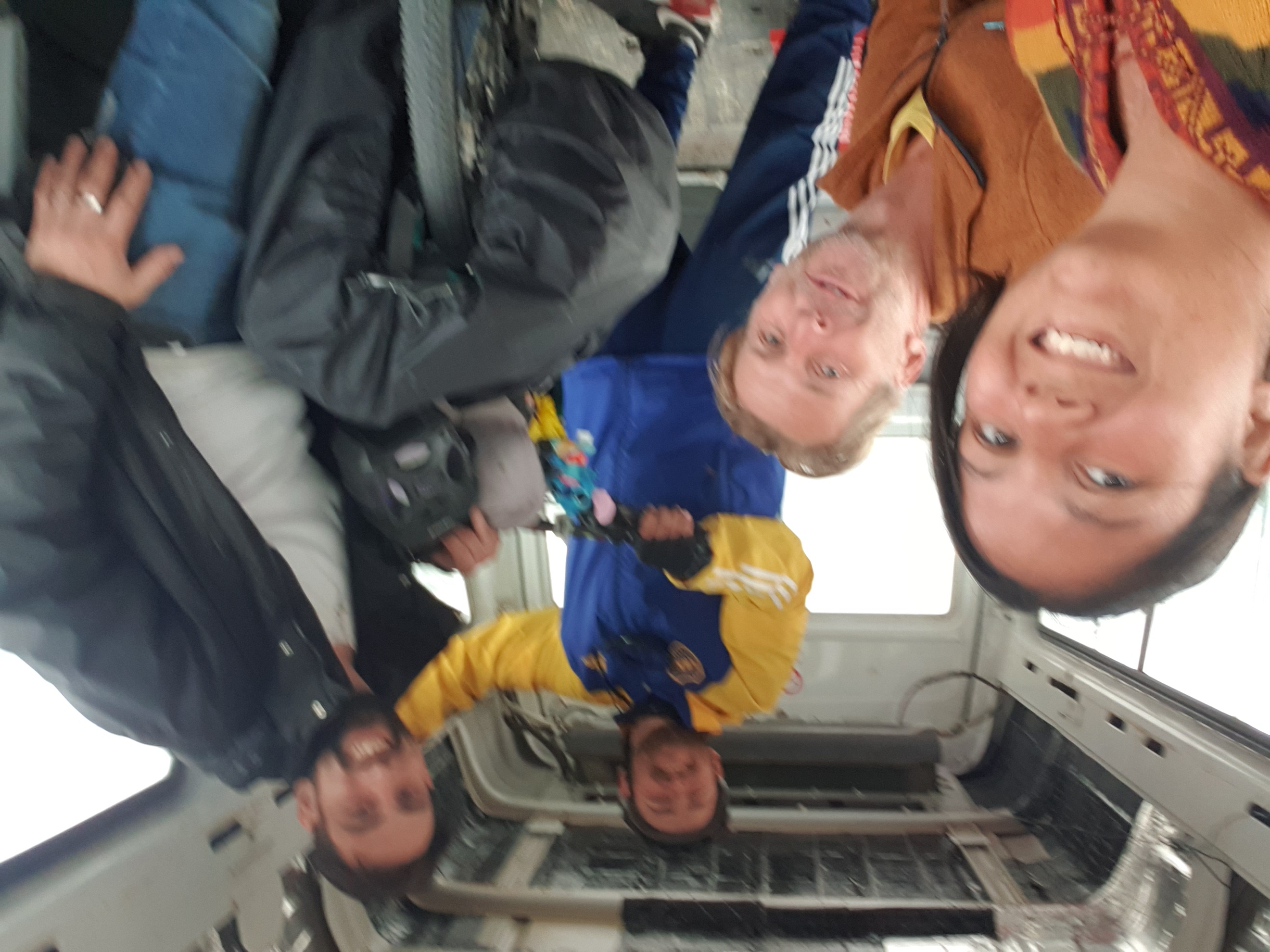 We left the mountains behind, the landscape turning to flatter grassland once more; we passed a cyclist who appeared to be making heavy weather against the wind. The van slowed; Jorge shouted out the window again. Soon he and I were helping hoist a laden bicycle into the back of the van. We drove on; the cyclist, down from Buenos Aires to cycle the length of Tierra del Fuego, was glad of a boost on his long journey. 
In the back of the van!
Miguel in the front invited us to his house in Río Grande for breakfast the following morning. But we were looking for a place to wild camp. "OK, then it's best we drop you here – there's nowhere else to camp until you get past Río Grande," said Jorge. We hopped out by the river Ewan as the sun set, a lot further along the road than we'd expected to be tonight. The river Ewan was stagnant and muddy, but the banks were flat and dry; we spent a decent night in the tent a few hundred metres along a path from a small forest fire monitoring station where the guard was friendly and allowed campers to use the shower and bathroom. 
We still had 300 kilometres to cover; if we didn't make Porvenir in a day, no problem – we had tent, supplies, cooker and sleeping bags. Hitching was fun, friendly and a great way to learn about life or ordinary folk in Tierra del Fuego, while improving our Spanish. We cooked porridge, made coffee, had breakfast and made for the road once more.