It took over a week to realise that altitude sickness was affecting my state of mind as well as my body.
A sea-level creature by nature, I may occasionally climb to 30 or 40 metres to rig a topgallant or royal; or even the occasional Munro at a little over 1,000 metres. 
But, feeling a loss of appetite and a revulsion towards all food, drink and comfort along with the headache and fatigue, it eventually dawned on me that my emotions were as washed thin as the air here at 3,600 metres; and I had not given myself sufficient chance to acclimatise. 
Having now spent two weeks in the mountains, the low hum that is the altitude has not gone away; but it is more manageable. Occasionally comes the strange realization that breathing has not been deep enough; and suddenly a gasping gulp of air is needed! Definitely a step outside my comfort zone. 
Ash had been out here for six weeks already when I flew into Quito. She has dreamed of seeing South America since a very young age; I have wanted to spend significant time immersed in a language and to become fluent; and the rhythms, music and geography of this continent fascinate me too. So, without a flat to encumber us back home, we will spend most of the winter out here. This will be a shoestring trip, but without UK heating bills and food costs to pay we may even come out better off!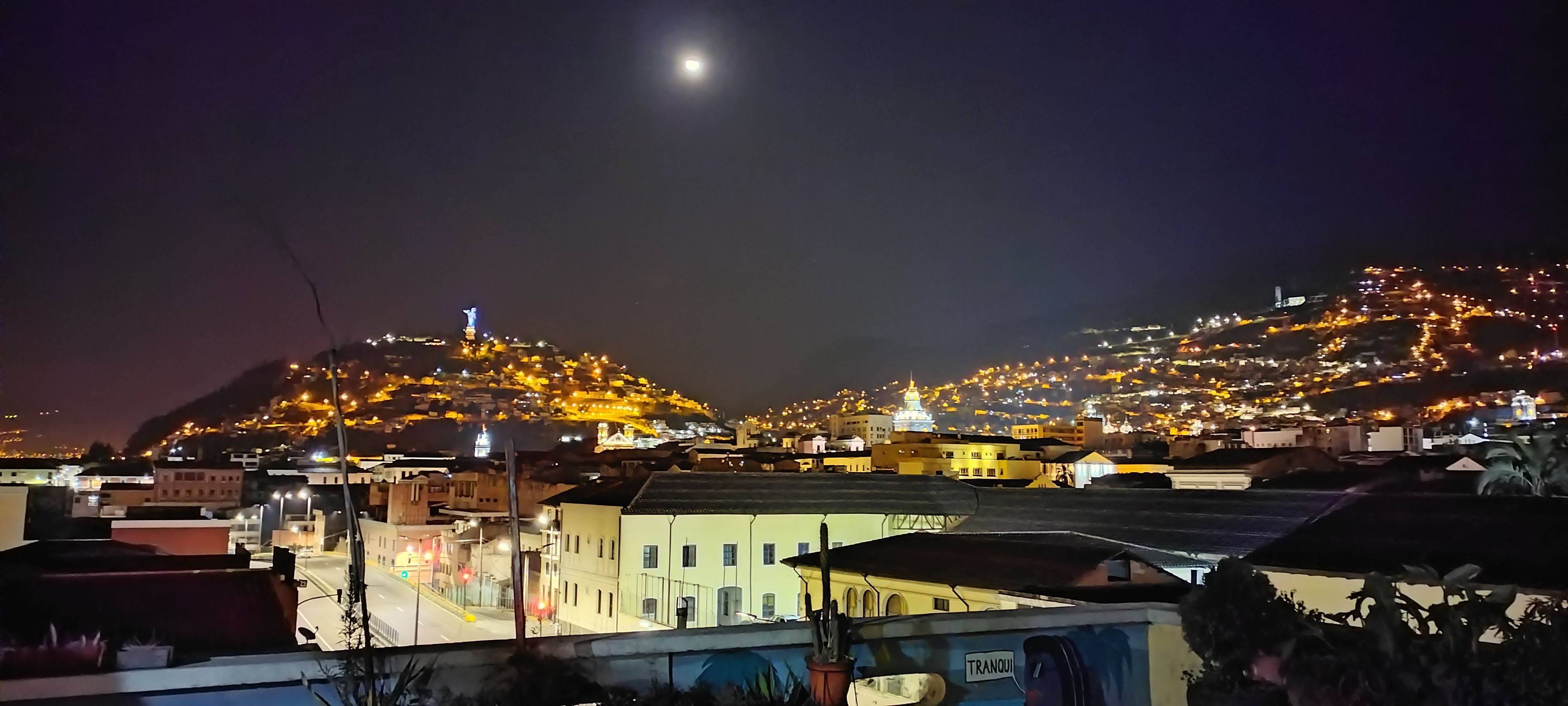 Quito by night
Quito, a strip of a city where almost 3 million souls live, fills a plunging mountain valley; trucks, taxis and vehicles fill the roads from 4am until 9pm, accompanied by the sharp, old-fashioned smell of incomplete combustion. Lorries cruise the streets selling gas cylinders, playing a tune as they go. Vendors shout from shop fronts and street stalls. 
However amidst all this noise there is a sense of peace from many residents. Oscar, our host at a hostel near the historic centre, is running for office in the northern province where he is from. He talks of the history of his country - 'Almost everyone in Ecuador is descended from native people', he says. 'but when the Spanish invaded, they completely changed the culture and the country, forever'. He goes on to say 'its no good for a country to invade another, ever'. 
We talk of Ecuador's incredible mountains, and active volcanoes. 'its strange how mellow the Ecuadorian people are, living among all these mountains and volcanoes', says Oscar. But I consider how, in my own experience, I have been to places where the land is flat and easy, and observed how people fall under the misapprehension that nature is tamed, that the land is theirs to buy and sell. In other places, where the land is high and mountainous, or the weather is harsh and the seas rough, there is a constant reminder of our smallness in the face of nature, and the people are often more humble and socially minded as a result. 
I have travelled to Ecuador without a guitar; so on the second day we go hunting for one in town. Imported guitars, even when second hand and beat up, are impossibly expensive; but then we stumble on Fausto Carrer's luthier shop. 
Fausto has been building guitars in Quito for forty years; I buy a small nylon-strung instrument from him, very different to the steel strung I am used to.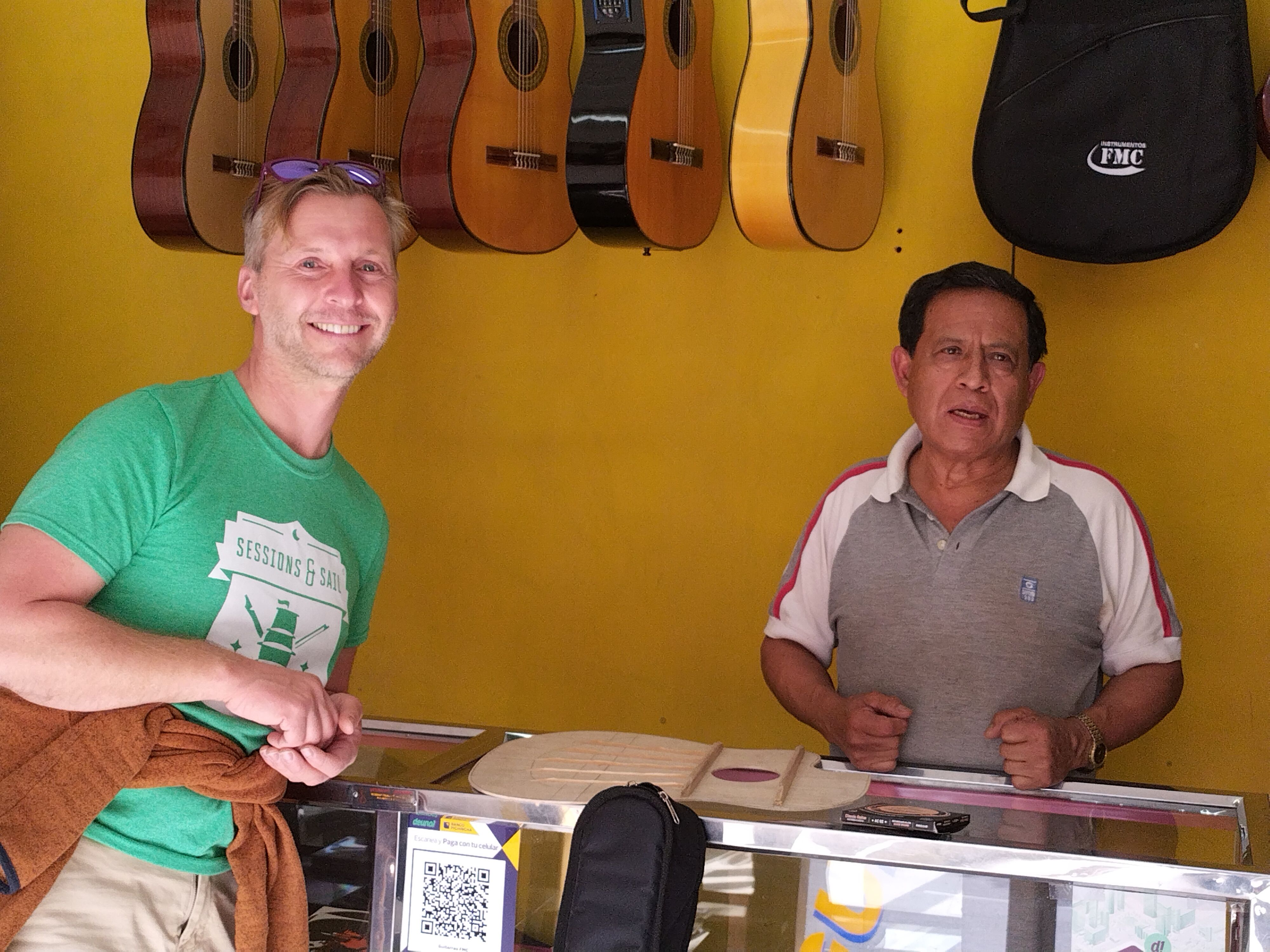 Buying a guitar from Quito luthier Fausto Carrera
We move on, south, to the small town of Zumbahua, high in the Andean uplands. The colours here seem washed out - grainy browns, mossy greens, dark rows of trees between fields that climb steep slopes and rugged protruberances.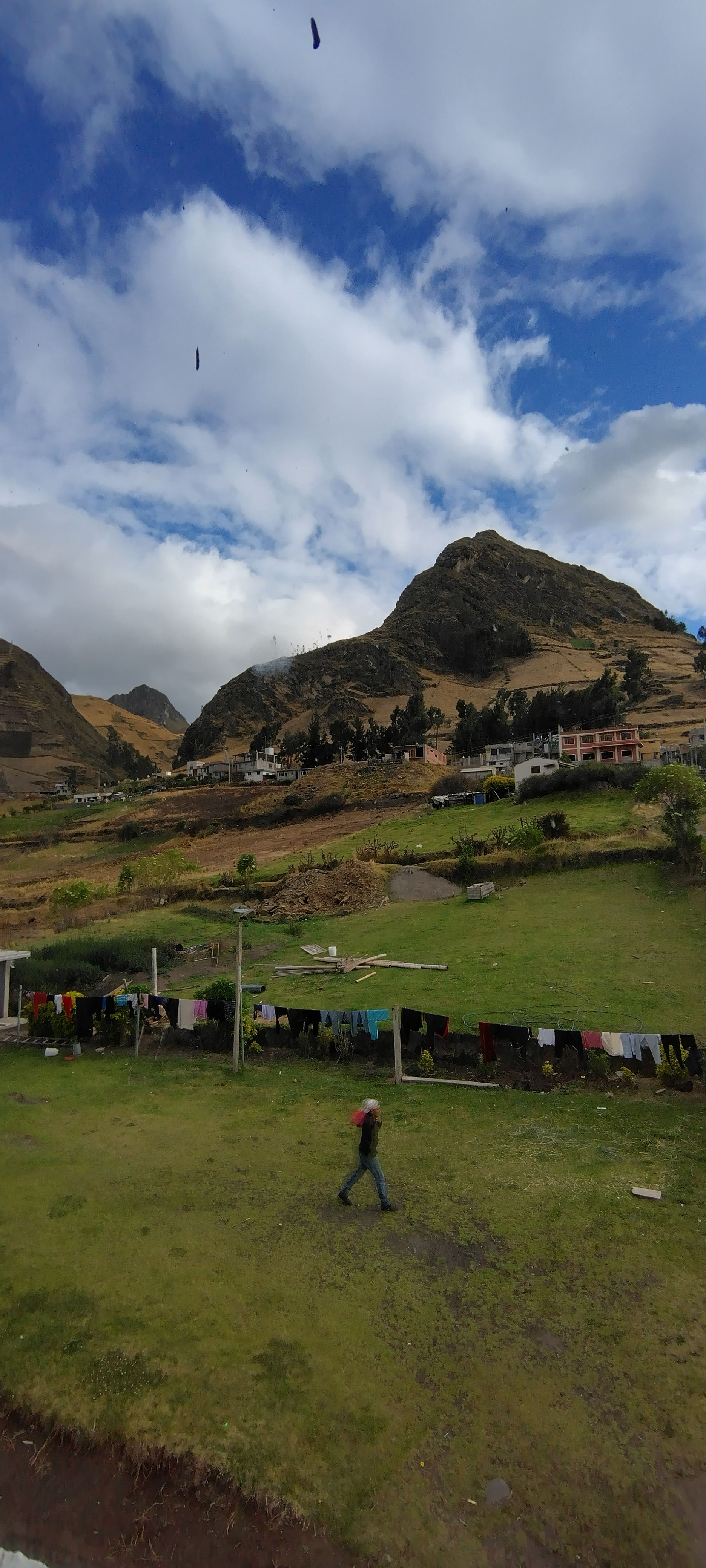 The backdrop to Zumbahua, high in the Ecuadorian Andes. 
The people of Zumbahua are Kichwa-speaking; and the men and women dress in traditional gear. The town is small enough, and unused enough to tourists, that people stop and say a good evening. 
The following day we headed 14km further north, to where amid the mountain tops of the Andes is the Quilotoa Volcano. 
This semi-dornant volcano contains a lake within its jagged crater, three kilometres across. The climb down to the lakeside is steep and long; the climb back up again, at over 3,600 metres above sea level, is arduous and long. The views are incredible.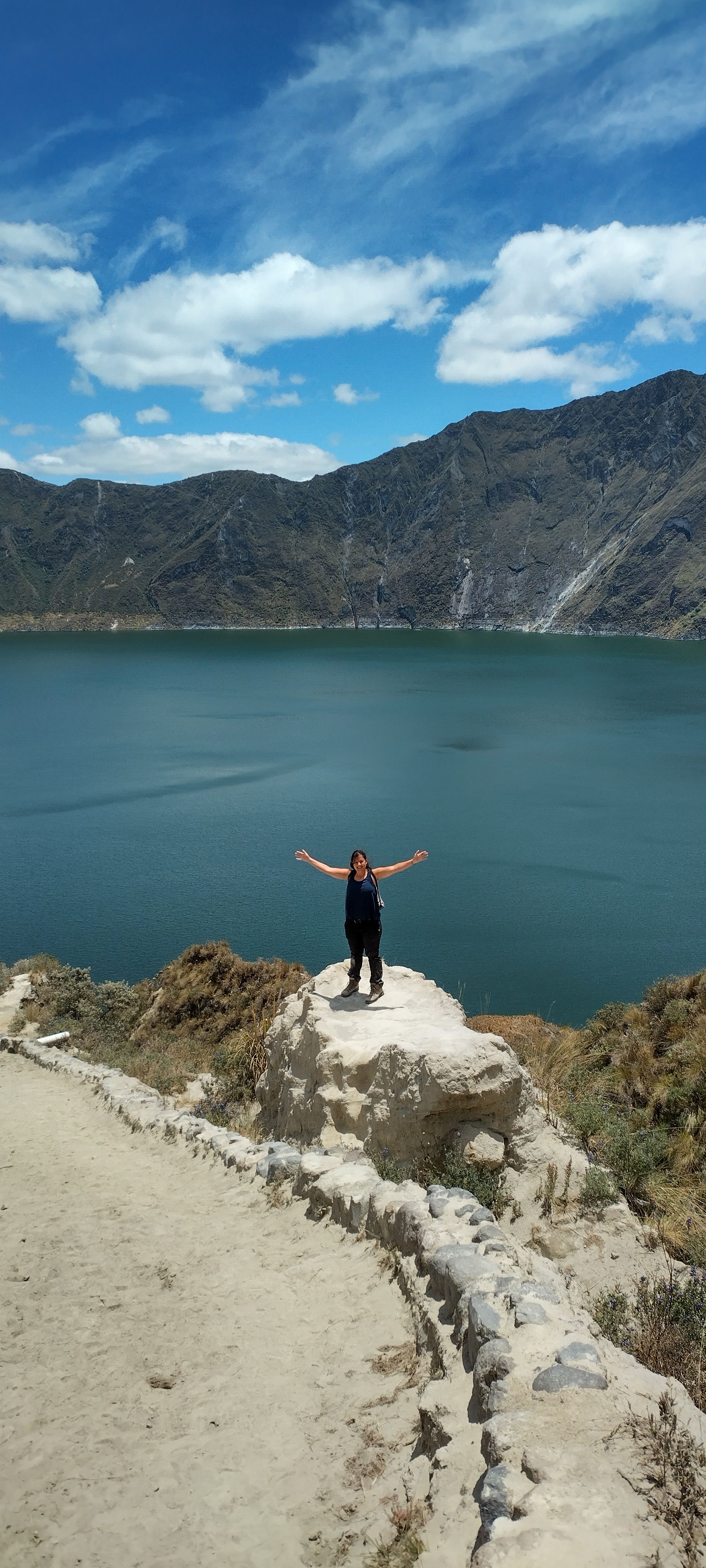 Quilotoa Lagoon
At Baños we climb the steep hillside and watch vultures soar below us, high above the town. That night, Carlos, an Argentinian percussionist/clarinetist jams some tango and cumbia tunes with me; there is a huge world of rhythm and music out here and I'm very keen to learn more about it. 
At Pochoa we camp in sight of Cotopaxi, one of the highest active volcanoes in the world at 5,897 metres. The nights are cold here, only a few degrees above zero, and we wrap up warm in the tent; the evening rain makes camping challenging, but it's worth it for the morning views across the valley!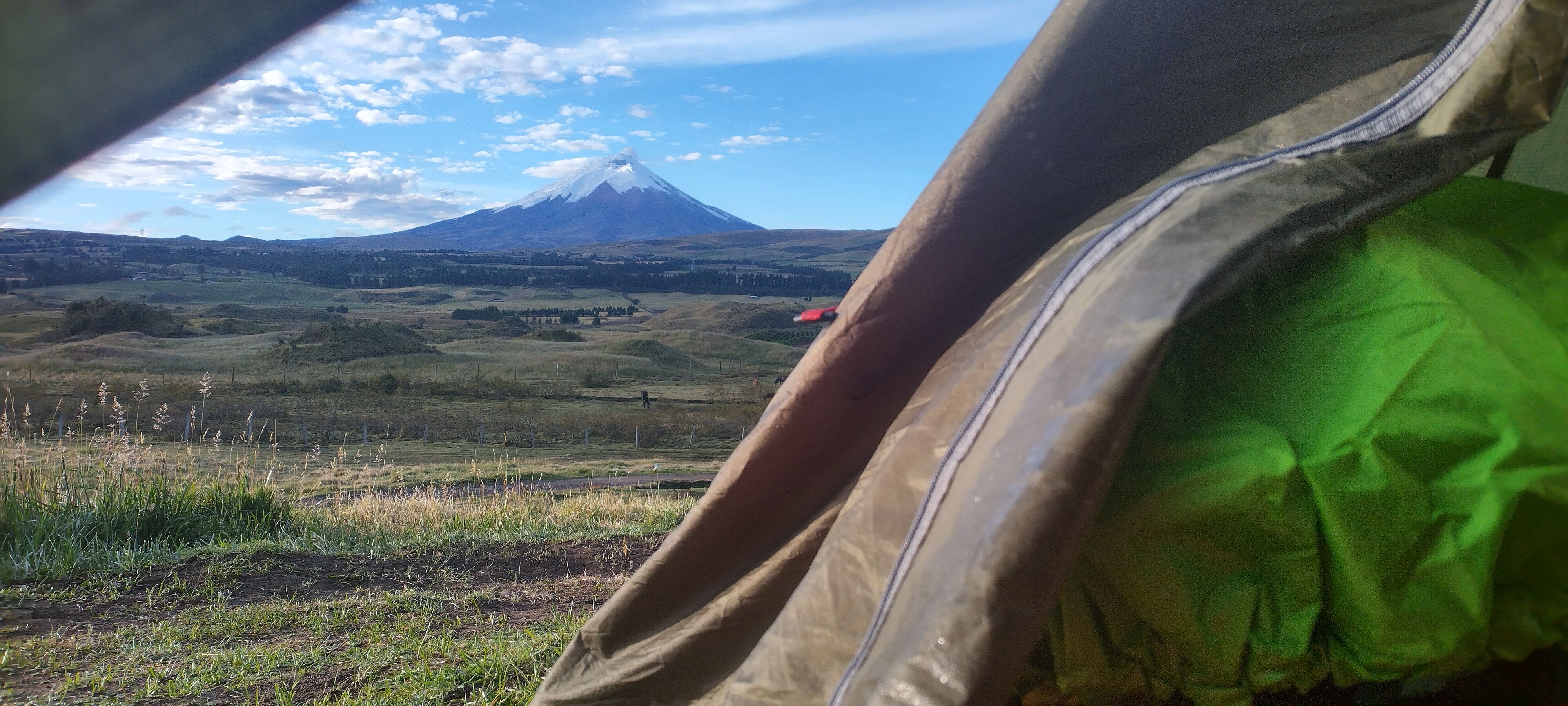 Morning View of Cotopaxi from our tent. 
We have come as far as the city of Cuenca as I write; a town boasting some incredible architecture, cathedral domes and a grid-iron centre. The climate is very Scottish - yesterday it rained all day and reached a maximum of 14 degrees C. Having almost acclimatised to the altitude, tomorrow night we will travel down towards the coast and the Peruvian border. 
I have been asked to curate the Highlands and Islands Voices site on Twitter this week; I'm planning to post a mix of impressions from travel and from home earlier in 2022. I'm pleased how easy it's proving to work, communicate and keep projects ticking over from out here. 
So, more impressions to follow; please keep in touch; and perhaps I'll see you back at sea-level! 
Barry