New Album - 'The Springbank Voyage' - coming in Summer 2022
I'm very excited to announce that I've got a new album underway - and it was a great boost just before Christmas to learn that I'd got funding from Creative Scotland to help me make it!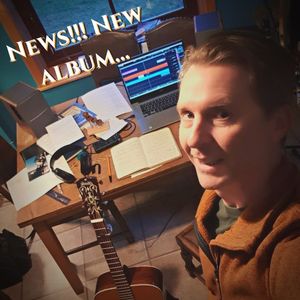 In May 1908, the four-masted barque 'Springbank' departed Leith, loaded a cargo of coal in Hamburg then sailed for Cape Horn and her destination of Santa Rosalía, on the west coast of Mexico. Among her crew were four Shetlanders; one of whom was a fiddle player from Cullivoe, Yell. Other crewmembers were from Orkney, Mainland Scotland, England and Newfoundland.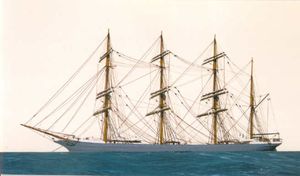 'Springbank'
The voyage was a tough one, and not all the crew made it to Mexico.The Springbank's crew faced hardships such as storms and rough weather, illness, calms, adverse winds and more. There were joys also - not much can match the feeling of a ship being driven in the right direction by a fair wind. The oneness with nature, the being at the mercy of the elements, the euphoria of departures and arrivals.
Although I have been spared many of the hardships a 1908 sailor had to endure, the voyage is one I can relate to, having spent eight years sailing in the Pacific aboard square rig sailing ship 'Søren Larsen'. Between this and the Cullivoe/Shetland history, this is for me as much a personal story as a historical one.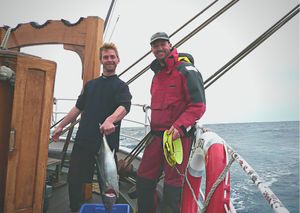 (left - on a Southern Ocean passage aboard Søren Larsen'.)
The album will be a retelling of the story, and will feature 14 brand-new tracks - a combination of songs and tunes. Several of the songs are in Shetland dialect; the tunes will give a nod to the Cullivoe style of fiddle playing.
I first heard the story of the Springbank from Cullivoe storyteller Lawrence Tulloch - the story features on his story cassette 'Yul, Hallamas and da Dead o Winter', released on the Veesik Records label in 2000. Some excerpts from Lawrence's telling of the story will feature on this album, with the kind permission of Lawrence's family and Veesik Records.
So I'm in Cullivoe this month, recording demos of all tracks, and aiming to get the final bits of writing and arranging complete before starting studio recording 'sooth' in February. Watch this space and my social media pages for updates and for some of the stories that have been a feature of researching the 1908 voyage!
And for a release date - 12th August 2022 is the date I am working on!
All the best, and fair breezes -
Barry