One of my favourite anchorages in the Inner Hebrides is Eilean an Naoimh, at the south-west end of the Garvellachs, an uninhabited grop of islands between Shuna and Mull.
It calls for a smooth sea and a fair forecast, and is completely open to the south west; but in the right conditions, there is just enough room between the rocks on both sides for the Lady of Avenel to swing round her anchor, and I have spent peaceful nights anchored here in summer 2018 and 2019.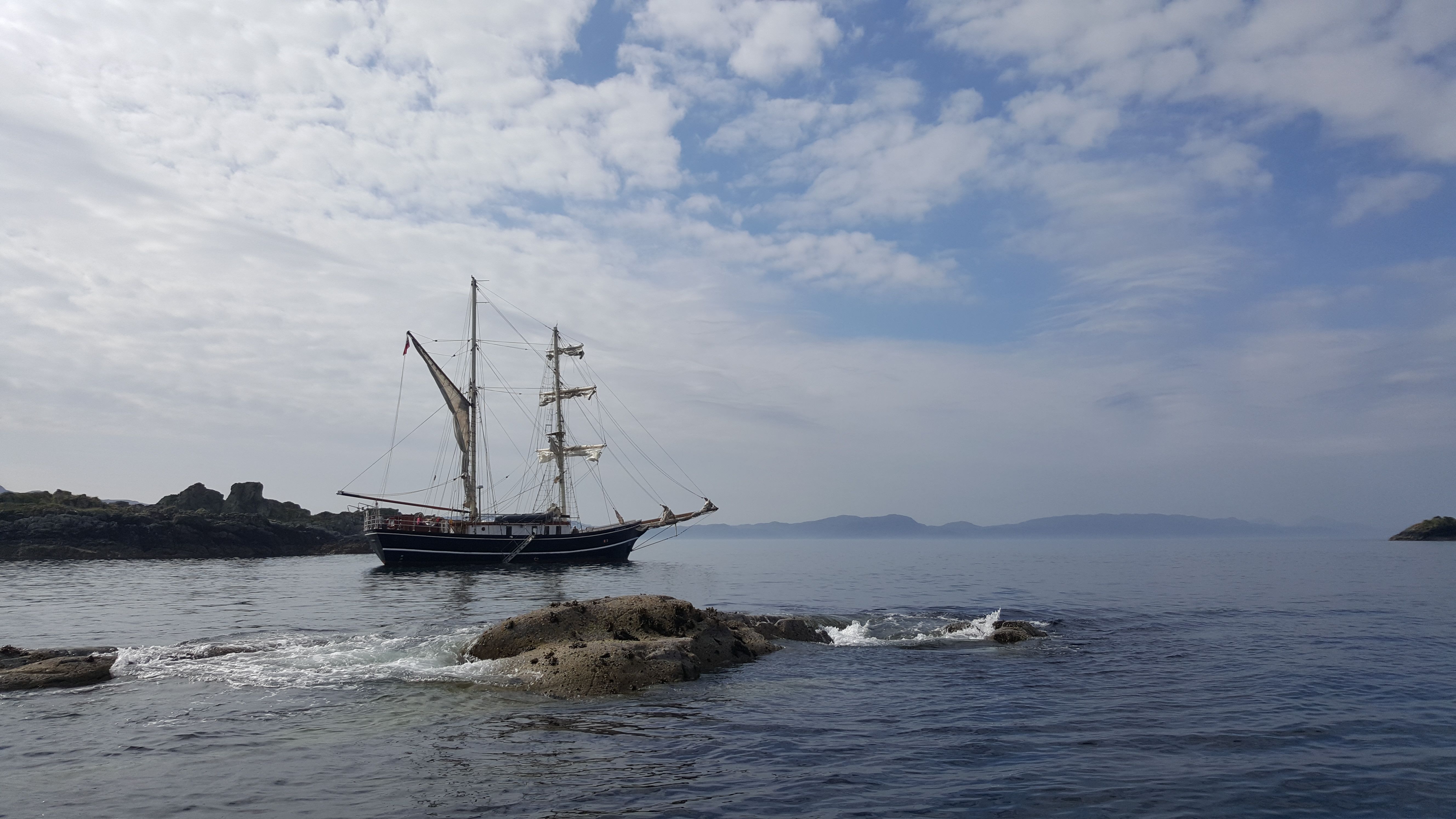 Lady of Avenel anchored at Eileach an Naoimh, summer 2018

It was on this island that Saint Brendan the Navigator built his monastery, in 542 AD; we were able to go ashore and visit the 'beehive' style monks houses from that era that still stand here.
Even more evocative, I found, was to look across to the Scottish Mainland - the mountains and hills stretching out in a blue haze behind the smooth sea - and consider how it would have looked to Brendan and the monks, knowing that over there were hundreds of glens populated by tribes of Picts who may have been hostile to a new religion brought by strangers. These new ideas got their toehold on the islands first - here, then Iona and Tiree.
In those days, and before, culture, language and religion spread through this region by sea, reaching the islands first before spreading inland; one of the principal sea highways ran north-south taking in Cornwall, Ireland, the Isle of Man, the West of Scotland, Orkney and Shetland.
Norway to the North East, and Brittany and Galicia to the south were extensions of this highway too - and, when viewed this way, the West of Scotland and the Islands begin to look very much at the centre of things, rather than on the edge.
I was reminded of these thoughts yesterday while taking part in the Residency week on the University of the Highlands and Islands Applied Music course. We read a very interesting blog piece by Professor Hugh Cheape: https://idruhi.wordpress.com/2020/07/02/the-road-to-tobha-mor/ that suggests using the conventional map 'turned upside-down' to best appreciate the spread of this culture, while asking how we can 'bury the concept of periphery' when talking of the relevance of the heritage of the Highlands and Islands.
All very interesting but most of all it makes me look forward to a time when we can once more play music, sail, and explore more of these fascinating anchorages.
Best wishes to all of you.
Barry