I joined Søren Larsen with a fiddle, having had a familiar decision to make - which instrument to bring to a ship. The fiddle usually won - it's common to find a guitar already on board a ship, but much less often a fiddle! But it always felt a shame to have to make such a compromise.
I was pleased to find that there was a decent ship's guitar aboard Søren, and was soon even more pleased to find that she was a ship full of music. From the first week aboard, in Cornwall in the pouring rain, Terri often taught us a variety of shanties as we gathered on deck after a long day's work: 'Paddy, lay back'; 'Spanish Ladies'; Tony Goodenugh's 'Pump Shanty; Fielding + Dyer's 'Whale Song'.
During a window of calm weather on our passage to Madeira, we gathered the crew on the foredeck and played tunes and sang songs. John, one of our guests who was a master mariner and pilot at Seaham Harbour proved to have an excellent voice, treating us to songs such as 'Skibbereen' and 'What will I do with my Herrin's Head'. Lucy, our sailmaker, played tin whistle; and I was able to supply some guitar backing and a few tunes on the fiddle.With a moody night sky above us, we sailed towards a dark horizon, enjoying the music and the respite.
On the Atlantic crossing, the heavy mainsail was lowered and raised several times, as well as the only-slightly-less heavy upper topsail. Terri was our shantyman, and led the song; the remaining crew on the peak and throat haliards roaring the chorus line. It was good to hear shanties as they are meant to be sung - by a ship's crew while working hard. Sixteen voices in stereo - eight on port, eight on starboard - singing while hoisting three-quarters of a tonne of douglas fir and canvas up the mast by hand is a fine thing to witness, and it doesn't matter if the pitching isn't perfect!
 - - - - -
A combination of music and sailing had taken us to the Caribbean, where Bequia island felt like paradise. Steel bands played by the waterfront at the Frangipani; and the path led over the saddle of the island, through soft scented trees to the isolated beach at Spring Bay; walking back in the dark, glowing fireflies hung laziily under the trees.
In the Windward Islands we crossed paths with an old friend - the brigantine 'Eye of the Wind'. (Pictured).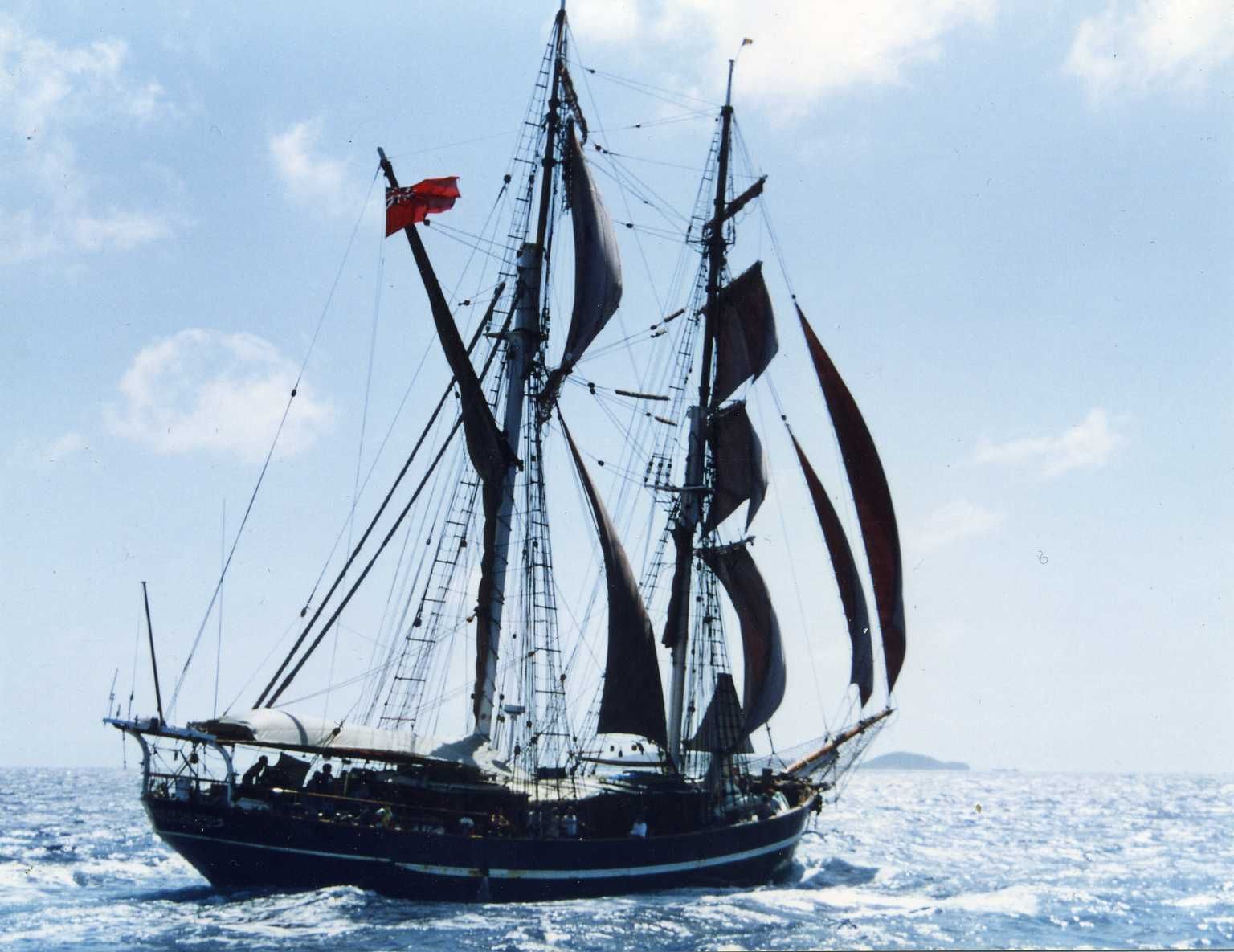 Eye of the Wind and Søren Larsen had history together - they had sailed in company around Cape Horn in 1993. The following year, when I was sixteen and a slightly frustrated and aimless sixth-year student at the Anderson High School in Shetland, an opportunity was advertised for youths aged sixteen in Scotland to be sponsored to join her for an Atlantic crossing. I applied immediately, and got the place.
I had all the highers I needed, or so I thought; and was just killing time at school, looking likely to fail Geography and sixth year studies Chemistry. So it was with great pleasure that I asked my teachers to sign my leaver's form, slipping in the fact at the end that I was leaving to sail across the Atlantic.
The six-week voyage from Boston, Massachusetts to Gloucester, England changed the way I saw life completely.
I was a keen trainee who could not get enough of climbing. Day or night, when there was aloft work to be done, I wanted to be first up the mast. We kept watches, fished, and steered; the 25-day crossing had its share of boredom, of course, but I was positive and happy to be onboard. The crew spoke about the world and travel in ways that seemed new, and yet made perfect sense; and they seemed to respect my own comments and opinions. From Captain Tony 'Tiger' Timbs, who seemed to me upstanding and wise, and yet humble and open, to base-jumping Australian engineer John; ex-Soviet solder Igor to deck hand Marian who could beat a sail into shape while 40 feet above a rolling deck more effectively than any male sailor I knew, I was inspired. I learned a huge amount about the ship, the sea, and the weather; but most of all, I think I learned how it felt to be part of a team I could really believe in. I had my horizons widened, and believed there could be a place for me in that world.
The following six years on oil tankers were tough, and I often wonder if I would have stuck it out had I not had that experience aboard Eye of the Wind. So it was emotional to see her now.
We spent Christmas Day together anchored off beach at Bequia; raced between the islands, swapping crews by day, and stories in the evenings; and ranged through the Windward Islands from Saint Vincent to Grenada. We became good friends with the crew of the 'Eye', and it was a sad parting when we went our separate ways; they cruised past, raising sail as they headed south towards Trinidad, exchanging three cheers with our crew; we would raise our own anchor that evening and head west, towards the Western Caribbean and the Panamá Canal.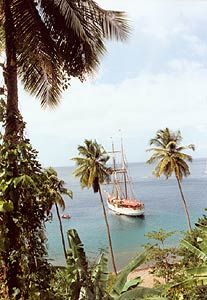 Søren Larsen, anchored off Granada.